Please help us welcome today's guest…
IN BED WITH A ROGUE
SAMANTHA GRACE
Welcome, Samantha…
MBA&M: What are five things readers may or may not know about you as a writer?
1. I'm a little embarrassed to admit I didn't read much romance before I became a romance writer. I read a few historical romances (Johanna Lindsey, Kathleen Woodiwiss, Laveryl Spencer) and a couple of contemporary authors (Nora Roberts, Janet Daley) in college, but that was it. I also enjoyed a few chick-lit books (Shopaholic series & Bridget Jones) after I had my kids. Looking back, it makes no logical sense that I chose to write romance, but I love it. It feels like the right fit to me.
2. I approached writing like I did graduate school. I assumed I could learn to write rather than believing it was simply a matter of talent. I definitely had a passion from writing, though.
3. I wrote stories beginning in third grade, so I've wanted to be a writer for a long time.
4. I minored in journalism, but it isn't my kind of writing. It was my major, but then I discovered psychology and it was an easy decision to switch majors.
5. My first paying job as a writer was writing short contemporary stories for True Confessions.
MBA&M: What inspired you to write historical novels?
I've always loved history, but it feels like a happy accident that I began writing historical romance. I was having a hard time at my day job a few years and I was looking for a way to escape the stress at the library. Reading has always been my go-to escape. As I was wandering the aisles at the library, I ran across a Johanna Lindsey book I had never read. It brought back good memories, so I picked it up. After reading a couple of historical romances, I thought I would like to try writing one so I did.
MBA&M: Tell us your journey to becoming an author?
I began writing Wednesday afternoons while my kids were in school. It was my day off and it was mainly for fun. I didn't know if I would have the nerve to let anyone else read it, but once I finished the book, I was excited by the prospect of getting it published. I Googled how to get published and learned I really needed to find a critique group. I found a wonderful online group whose members have become some of my best friends. They were so kind and generous with their time. I will always be grateful for their guidance. Anyway, one of my friends was published with Sourcebooks and she told me Deb Werksman was accepting online pitches. I was so nervous about posting my pitch for everyone to read, not to mention the possibility of being shot down on a public forum. Luckily, Deb was interested and asked to see my manuscript (Miss Hillary Schools a Scoundrel). I received the call about a week later and it was one of the most amazing moments of my life.
MBA&M: Where do you draw your inspiration from when beginning a story?
Story ideas come from many different sources. I can't even pinpoint where exactly. Sometimes it's a combination of several things: a snippet of a real life story, a lyric from a song, or something that just pops into my head. Before I start writing, I have to explore my characters' backgrounds, goals, and motivations. Once I know what has happened in their lives and what is important to them, I'm usually very excited to start the story.
Thanks so much for having me at My Book Addiction today! I'm excited about chatting with everyone today. I'd love to know what book lead to readers' love for romance.
Thank you, Samantha, for taking time out of your busy schedule today to spend time with us and our readers!
To connect with Samantha…
Samantha Grace Author | Facebook | Twitter | Goodreads | Pinterest
---
---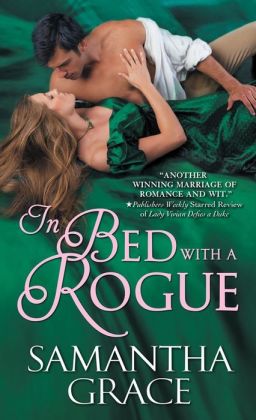 Soucebooks Casablanca
Historical Romance
September 2, 2014
ISBN: 9781402286612
$6.99/£4.99
Mass-Market Paperback
He's the Talk of the Town
The whole town is tittering about Baron Sebastian Thorne having been jilted at the altar. Every move he makes ends up in the gossip columns. Tired of being the butt of everyone's jokes, Sebastian vows to restore his family's reputation no matter what it takes.
She's the Toast of the Ton
Feted by the crème of society, the beautiful widow Lady Prestwick is a vision of all that is proper. But Helena is no angel, and when Sebastian uncovers her dark secret, he's quick to press his advantage. In order to keep her hard-won good name, Helen will have to make a deal with the devil. But she's got some tricks up her sleeves to keep this notorious rogue on his toes…
Buy: Amazon | B&N | BAM! | IndieBound | !ndigo | iTunes
The six Samantha Grace books include:
·         Miss Hillary Schools a Scoundrel
·         Lady Amelia's Mess and a Half
·         Miss Lavigne's Little White Lie
·         Lady Vivian Defies a Duke
·         One Rogue Too Many
·         In Bed with a Rogue
---
---
SAMANTHA GRACE
Bio:
Historical romance author Samantha Grace discovered the appeal of a great love story when she was just a young girl, thanks to Disney's Robin Hood. She didn't care that Robin Hood and Maid Marian were cartoon animals. It was her first happily-ever-after experience and she didn't want the warm fuzzies to end. Now Samantha enjoys creating her own happy-endings for characters that spring from her imagination. Publisher's Weekly describes her stories as "fresh and romantic" with subtle humor and charm. Samantha describes romance writing as the best job ever.
Part-time hospice social worker, moonlighting author, and Pilates nut, she enjoys a happy and hectic life with her real life hero and two kids in the Midwest.
Website: http://www.samanthagraceauthor.com/
Facebook: https://www.facebook.com/pages/Samantha–Grace/264436686918343
Twitter: @SamGraceAuthor https://twitter.com/SamGraceAuthor
Goodreads: https://www.goodreads.com/author/show/4946067.Samantha_Grace
---
---
For My Thoughts, please visit
http://mybookaddictionreviews.com/2014/09/10/12341/