Shades of Surrender Boxed Set Out on B&N, Big Giveaway, Excerpt!
The Reluctant Billionaire
When BBW Sophie begins her new job as chef in William Blackwell's mansion, she wants a new start. Her last job led to a romance with her billionaire boss which ended in heartbreak. This time, she swears she'll stay away from workplace romance…a vow that's put to the test when she meets the enigmatic Rhys, one of the mansion's gardeners.
William "Rhys" Blackwell might be a billionaire, but he still loves digging in his gardens. When he meets Sophie he feels instantly attracted to her. But Sophie says she doesn't want to date anyone from the mansion, and Rhys knows that goes double for him, so he keeps his identity quiet. Maybe if she gets to know him first, she'll change her mind.
In the midst of the growing attraction between Sophie and Rhys, they have other problems to deal with, too…a lawsuit, a billionaire ex-lover and more. In the end, there's just one question: what are they willing to risk for a chance at love?
Amazon US
Amazon UK
Barnes and Noble
Apple iTunes
All Romance Ebooks
Kobo
Curvy Girls on Facebook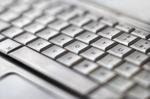 If you like reading BBW romances and you're on Facebook, I invite you to check out the Curvy Girl Romance Facebook group. (I'm one of the admins.) We talk about books, dish about hot men and generally have a great time. Warning: we do post some very hot pictures, so be sure you're up for it before joining. 🙂 Here's the link: Curvy Girl Romance.
Apple iBooks
If you read on iBooks, check out #TGiFiBooks on Twitter every Friday for great deals!
Shades of Surrender $0.99-now on B&N too!
Shades of Surrender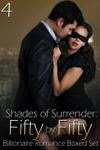 Shades of Surrender: Fifty by Fifty #4, A Billionaire Romance Boxed Set
Dominant and uncompromising, these alpha males expect a lot from their women. Will they get the surrender they're looking for?
Join us for thirteen smoldering tales of alpha billionaires and the curvaceous, delicious women they love.
BBW Books in Shades of Surrender:
–Danielle Duncan's The Billionaire's Runaway Curves
–Liliana Rhodes' Playing Games
–Marian Tee's The Greek Billionaire and I
–Julianne Reyer's Hunting for Curves
–Savannah Reardon's The Billionaire's Student
Grab it now before the price goes up!
Amazon: http://www.amazon.com/dp/B00U6QHF8S
Amazon UK: http://www.amazon.co.uk/gp/product/B00U6QHF8S
iBooks (aka iTunes): https://itunes.apple.com/us/book/shades-surrender-fifty-by/id972659200?mt=11
Nook: http://www.barnesandnoble.com/w/shades-of-surrender-abby-weeks/1121340951?ean=2940151371346
Here are all the books you'll find in Shades of Surrender:
The Billionaire's Student by Savannah Reardon
Katie's parents die unexpectedly, making her desperate for a way to payfor college. Billionaire Jace Weatherton is the answer, but in return, takes Katie on a wild ride of lust, submission, and love.
The Interview by Abby Weeks
A young lawyer gets a call to help out an enigmatic, billionaire CEO in his private office. Once in his private office, she realizes that the connection between them is going to be deeper than she expected.
Playing Games by Liliana Rhodes
Curvy Cassie Monroe moves to Canyon Cove with only one thing in mind–finding a job. But after a close encounter with her sexy billionaire boss, she's finds more than she bargained for.
Hunting for Curves by Julianne Reyer
A shy curvy girl. A billionaire CEO, plus his longtime male lover. A smoking hot proposition. Will a steamy threesome end in disaster, or can she prove to the two men that one night is never enough?
Safeword: Matte by Candace Belvins
Matte, pronounced mah-tay, is Japanese for stop, and is used in some martial arts to end a fight. Sam enjoys various fighting disciplines and is a sexual submissive. What better safeword than matte?
The Greek Billionaire and I by Marian Tee
Too proud to let Greek billionaire Mykolas know she's in love with him, schoolteacher Velvet ends up accepting his offer for a marriage of convenience. At least this way, he'd still be hers.
Corrupt Practices by Penelope L'Amoreaux
Mariel's new political internship is off to a rough start. In over her head and caught in political intrigue, she looks to her boss's hard discipline for guidance.
The Billionaire's Runaway Curves by Danielle Duncan
Ellie ran from Theo when she found out she was pregnant with their child. Now he's found her and that old spark's stronger than ever. But what will Theo do when he finds out Ellie hid his daughter?
His Weakness by E.K. Sabins
After the death of her parents, Ellie is in need of a husband and thrust into the opulent world of Boston's elite. Will she find love with a handsome scion, or will she be his weakness?
Don't Fall by Candy Quinn
The internship of her dreams leaves Amy's head spinning, but when her boss takes her out to dinner, and she learns more about his hidden life, she's drawn into a world she never knew existed.
The Politician and the Girl from the Coffee Shop by Terry Towers
Jessie knows better than to date her customers, but for the charismatic Senator Morrow she's tempted. Could Washington's most eligible bachelor be interested in the shy girl from the coffee shop?
Billionaires in Disguise: Rae by Blair Babylon
Rae has three weeks of college freedom before she goes home to her fundamentalist family, so she shoves The Blond Hottie up against a wall in dark bedroom, and all Hell breaks loose.
Anything He Requires by Michelle Fox
Animal trainer Jessica Kingston thinks it's just another job when wealthy Jacob Daniels hires her to train his willful puppy, but the way he crushes her lips when they kiss says otherwise.
Big Giveaway
We're giving away a bunch of gift cards to celebrate the release of Shades of Surrender.
Enter today!
http://www.rafflecopter.com/rafl/display/e05c901569/
Excerpt from The Billionaire's Runaway Curves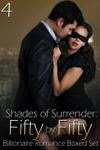 Theo Hale would have been just as happy to skip the corporate retreat, but since he'd recently started as CEO of HexaCorp—and was the one who'd called for the corporate retreat in the first place—he couldn't very well ditch it. He needed to cement his leadership and this was the perfect way to do it, so long as he could stomach it.
He arrived at the Diamond Hearts resort with his personal assistant, Jerome, who had ridden on his private jet with him. The rest of the management team would trickle in on their own, most of them filling up the first class sections of several direct flights from Chicago to Colorado.
As Theo walked across the expanse of the gold and silver lobby of Diamond Hearts' main hotel, he spotted a woman who looked like someone out of his past. She looked so much like Ellie that he stopped and stared, his mind trying to reconcile the differences wrought by almost nine years of separation to determine if it could really be her.
Her hair was shorter now, but it was the same shade of deep brown that he remembered threading his fingers through. Her skin was slightly more tan, not quite the pale white that it had been when she'd spent all her time indoors. And her luscious body had a little extra curve to it.
She was beautiful, even more of a bombshell than he'd remembered.
Without thinking about it, he started walking again, headed straight for her. The closer he got, the more sure he felt. Excitement thrummed through his veins. This was Ellie.
He'd found her at last.
***
Ellie was at the front desk helping Hannah with a sudden deluge of guests when she felt someone staring at her. At first she ignored the sensation. She had enough to do without imagining things. But in spite of herself, she looked. It didn't take long to spot the man striding toward her, a determined look on his face.
Theo Hale. The last man she wanted to see.
Without thinking, Ellie jumped to her feet and hurried through the Employees Only door behind her. As soon as the door shut, she leaned back against it. It wasn't a conscious move—she knew he wouldn't do anything so gauche as to try to follow her back here. It was purely instinctual. She needed to guard herself against him and holding the door fast was a good way to start.
As soon as she realized she was doing it, she stood up, straightened her shirt, and headed down the hall to her office. If she was walking a little faster than usual, she didn't care. There was no one to see her.
Theo Hale had haunted her dreams ever since she'd left him high and dry in Chicago nearly nine years earlier. They'd had a very hot affair that had taken her places she'd never been before. He'd coaxed her into doing things she never thought she could have done—things so scandalous she blushed even now when she thought about them. She didn't know what kind of a man could do things like that.
Which is why she couldn't bring herself to tell him when she found out she was pregnant. A man who could be so debauched couldn't possibly be a good influence on a child. She'd struggled with it for a few weeks, knowing she should tell him but not being able to bring herself to do it. When she knew she wouldn't be able to hide it any longer, she packed up her things and left.
She'd known he'd look for her, so she'd done everything she could to hide her tracks. Over time, she'd become confident she'd slipped away successfully.
His showing up at Diamond Hearts was the worst kind of luck.
Other $0.99 Books


Check out these other boxed sets at $0.99 right now!
The Billionaire's Obsession collection by J.S. Scott
http://www.amazon.com/The-Billionaires-Obsession-Collection-Completely-ebook/dp/B00BMHUDP2/
The Billionaire's Desire boxed set by Cassie Cross
http://www.amazon.com/The-Billionaires-Desire-Complete-Series-ebook/dp/B00LS7L9RW/
For His Pleasure (10 book BDSM boxed set)
http://www.amazon.com/For-Pleasure-Book-BDSM-Boxed-ebook/dp/B00NI4I0GG/
Provided by:
Sourcebooks,INC.