Congratulations on your latest release……
SONG OF THE PRAIRIE
{Historical Romance}
[#3 in the Pioneer Promises series]
VICKIE MCDONOUGH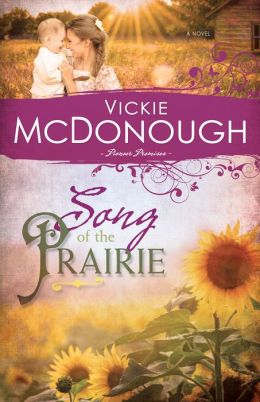 Song of the Prairie is the third and final book of award-winning author Vickie McDonough's Pioneer Promises Series. Set in 1870s Kansas, the action revolves around the Harper Stage Stop on the Santa Fe Trail and brothers Aaron, Josh, and Ethan Harper who run the family business. Reviews have been overwhelmingly positive for the Books 1 & 2 and early response to Book 3 is glowing with some, like author Amanda Cabot, asking for more:
"Vickie McDonough has outdone herself. Song of the Prairie is a heartfelt, heartwarming and at times heartbreaking story of the lengths a woman will go to protect a child. Turning the last page was bittersweet. Although I sighed in pleasure at the resolution of Janie and Aaron's problems, I wished there were more than three Harper brothers so I could look forward to another prairie adventure.
More, please!
Song of the Prairie

by Vickie McDonough
Pioneer Promises #3
A Runaway New Mother…
Janie Dunn's dreams of being an opera singer suddenly dim when, at her dying cousin's request, she flees Boston with her cousin's newborn son to protect him from his abusive father. She moves to Kansas to live with her brother, who poses as her husband to protect her identity, lest the baby's father seek her out. But it's hard living a lie, even more so the closer she grows to her neighbors on the prairie.
A Widower Missing His Children…
Aaron Harper lost his wife four years ago in a tragic accident. Without a mother to help raise and educate his two children, Aaron sent them to live with his brother and sister-in-law in Windmill, a few hours' train ride from his family's homestead, to attend the local school. Yet Aaron regrets seeing his son and daughter so rarely. He yearns to have them under his roof again, but without someone to educate them, it's an impossible scenario.
A Past That Seems Irreparable…
Life takes a dire turn for Janie when her brother dies. The Harper family turns out to be the greatest blessing—particularly the handsome Aaron Harper, who keeps the farm running in her brother's absence. But Janie knows his help is only temporary. Is a marriage of convenience to Aaron Harper the answer to both of their problems? And is Kansas far enough away from Boston that she is safe from the baby's vengeful father? Or will he come after her and expose the secret she's worked so hard to conceal?
ISBN: 978-1-62911-170-4; $12.99; Frontlist; Fiction/Christian/Romance; August 2014 Release
***
About the Author…..
Vickie McDonough is an award-winning author of more than thirty books and novellas. A member of the American Christian Fiction Writers, she served as treasurer of the organization for three years and also was treasurer for her local chapter. Her novel Long Trail Home won the 2012 Booksellers' Best Award for Inspirational Fiction. Her books have also won the Inspirational Reader's Choice Contest, Texas Gold, and the ACFW Noble Theme Contest, and she has been a multiyear finalist in ACFW's BOTY/Carol Awards. She is the author of the fun and feisty Texas Boardinghouse Brides series from Barbour Publishing and author of Long Trail Home and End of the Trail, books 3 and 6 in the Texas Trails series by Moody Publishers, in which she partners with Susan Page Davis and Darlene Franklin. Vickie lives with her husband, Robert, in Oklahoma. They have four grown sons and one daughter-in-law, and are grandparents to a precocious eight-year-old girl. When she isn't writing, Vickie enjoys reading, shopping for antiques, watching movies, and traveling.
For more on Vickie McDonough: www.vickiemcdonough.com.
www.songoftheprairie.whitakerhouse.com
For review copies, press kits, or to set up an interview with Vickie McDonough:
Cathy Hickling, chickling@whitakerhouse.com, 800-444-4484.
What Others Are Saying about…
…Vickie McDonough and the Pioneer Promises Series
Call of the Prairie (Book 2)
Call of the Prairie pulled me in from the first pages. Readers will cheer for Sophie Davenport, a sheltered city girl, as she struggles to triumph over the challenges of prairie life.
—Ann Shorey
Author, the Sisters at Heart series
Vickie McDonough's writing shines in Call of the Prairie, a beautifully crafted story of courage and strength—and a reminder that even when the fulfillment of our dreams seems impossible, God has everything under control. I found myself captivated by the town of Windmill and its people and felt the call of the prairie tugging at my heart.
—Carol Cox
Author, Love in Disguise, Trouble in Store, and Truth Be Told
With her signature vivid descriptions that bring the prairie to life and cast of engaging characters, Vickie McDonough gives readers a story that will linger in their hearts. More than just a delightful historical romance, Call of the Prairie is also a story of duty and determination, misunderstandings and mystery, life and love. Don't miss it.
—Amanda Cabot, CBA best-selling author
Whispers on the Prairie, (Book 1)

Romantic Times RT Rating McDonough spins a pleasant and engaging pioneer family drama in her series starter. The Harper brothers fairly leap off the pages with their faith and humor, and readers will sigh happily when one brother finally captures the bride he secretly pines for. Who's next?
—Reviewed by Carolyn Martin, July 2013
Do you enjoy Janette Oke's books? If so, then Whispers on the Prairie by Vickie McDonough is the book for you! I haven't read a prairie romance that I have enjoyed more than this one. I was entranced by this story and did not want to put it down. It's overflowing with rich characters, deep spiritual themes, and lots of good old fashioned romance. Emotionally captivating seems like such an inadequate way to describe how this story drew me in but I can't think of another description. Vickie brings about the sweetest and most gentle of romances that totally warmed my soul.
—Ann Payne, Stuff & Nonsense
www.duhpaynes.blogspot.com/2013/07/review-whispers-on-prairie-by-vickie.html
Against a backdrop of the growing pains of the post-Civil War United States, Vickie McDonough weaves a tapestry of words depicting life on the plains and the changes that were quickly becoming the norm. Her characters leapt to life in my mind and my heart, and they stayed with me long after I finished reading this wonderful tale.
—Lena Nelson Dooley
Award-winning author, Maggie's Journey, Mary's Blessing, and more
*All info and images from the publisher*
______________
Check out My Thoughts:
____________
We hope you have enjoyed our Release Day Blitz today. Please help us spread the word!