MBA&M AND PUMP UP YOUR BOOK PROUDLY PRESENTS……
TRACY SANDS...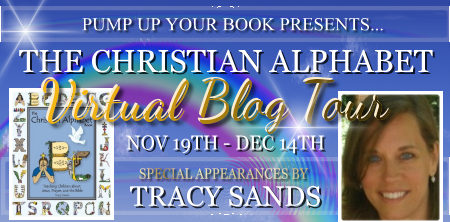 Join Tracy Sands, author of the Children's Christian novel, The Christian Alphabet, as she tours the blogosphere November 19 through December 14, 2012 on her first virtual book tour with Pump Up Your Book!
ABOUT TRACY SANDS
Tracy Sands is from Peachtree City, Georgia, where she lives with her husband, Albert, and their three sons, Chase, Gabe, and Adam. Tracy taught art and "church school" to all ages for many years. She now spends her time caring for her active family and working on The Christian Alphabet™.
To find out more, please visit her at www.thechristianalphabet.com
****
ABOUT THE CHRISTIAN ALPHABET
In 1999, the Lord inspired me at a church choir event. As I sat in the back pew, listening to the awesome Christian music, an incredible urge to draw came over me. Being an art teacher, I had experienced this feeling, but never with such intensity. I had a pen in my pocket, but the only paper available was the program I received at the door. In the empty space of that program, I sketched like crazy. I felt as though I would pop if I didn't get the ideas out of my brain immediately.
I will never forget that experience. I felt peaceful yet energized. God was just getting started with me. Over the next nine months, God and I created this alphabet.
****
FOLLOW TRACY ON TOUR:
The Christian Alphabet Virtual Book Publicity Tour Schedule
Monday, November 19
Book Spotlight at My Devotional Thoughts
Monday, November 26
Interviewed at My Book Addiction and More
Tuesday, November 27
Book reviewed at Splashes of Joy
Wednesday, November 28
Interviewed at Review From Here
Thursday, November 29
Interviewed at Literal Exposure
Friday, November 30
Guest blogging at The Phantom Paragrapher
Monday, December 3
Book reviewed at Reading, Writing, and Ruckus
Interviewed at Digital Journal
Tuesday, December 4
Book reviewed at Day by Day in Our World
Wednesday, December 5
Interviewed at Pump Up Your Book
Thursday, December 6
Interviewed at Read it All Book Reviews
Friday, December 7
Book reviewed at Blooming With Books
Monday, December 10
Guest blogging at Books, Books, the Magical Fruit
Book reviewed at Thoughts in Progress
Tuesday, December 11
Book reviewed at A Year of Jubilee Reviews
Guest blogging at Shine
Wednesday, December 12
Book reviewed at The Children and Teen's Book Connection
Interviewed at Examiner
Thursday, December 13
Book reviewed at Melina's Book Blog
Friday, December 14
Book reviewed at Read It All Book Reviews
Book reviewed at 4 the Love of Books
Book reviewed at Reading Rendezvous Reviewz
****
We hope you have enjoyed our author/book spotlight today!