ASCOT MEDIA GROUP AND  MY BOOK ADDICTION AND MORE
PRESENTS…..
DR. KEVIN DOBRZYNSKI,D.N.!!
MBA&M: Please tell our readers a little about Kevin Dobrzynski?
Dr. Kevin Dobrzynski is a Doctor of Naprapathy, nutritionist, and personal trainer who has spent his career successfully helping others lose weight. In 2010 Dr. Dobrzynski's wife had her thyroid removed due to cancer. Conventional medicine failed to help his wife, but he discovered a natural treatment for hypothyroidism. He is the author of The Hypothyroid Diet, which has helped hundreds of sufferers overcome hypothyroid symptoms.
MBA&M: Overweight people are often perceived as overweight due to overeating, but instead, could they have medical reason for their overweight problem, as a D.N. how do you deal with this issue?
Unfortunately, losing weight is not as easy as just eating less. I know a lot of patients who in fact don't eat enough. There are many medical issues that can keep people from losing weight; low thyroid function and food allergies/sensitivities are a couple of examples. These two go hand in hand. BTW, I'm a Licensed Naprapath not an MD. I usually start by evaluating thyroid function, then I address food allergies/sensitivities.
MBA&M: My mother,was morbid obese,due to Thyroid issues,as a child I heard the laughter,snide remarks from others about her "hand to mouth disease".It was so intense that she NEVER want to our school functions or such. It took them years to figure out she was Diabetic also. Of course this was fifty years ago and M.D.'s didn't know the answer either. How would you deal with this issue,today?
Being involved in natural medicine helps, because I use food first, followed by supplementation. I really work to get to the root-cause of the problem, versus medicating. Also, I do not medicate, that's a MD's job. In actuality, I have an advantage because I don't use medication to suppress symptoms.
MBA&M: What research, did you do to find the right combination for the detox equation?
It was a combination of research and experience working with other doctors and patients. After doing it for years you know what works for most patients.
MBA&M: What do you suggest people take to their M.D.'s to find if they do have a Thyroid issue?
I suggest people monitor their symptoms and write them all down and present these to their doctor. Also, it's helpful for them to do a basal body temperature reading. This information along with a full thyroid panel will paint the whole picture for the doctor.
MBA&M: Will this diet also work, if you do not have a Thyroid issue?
YES, this diet will work for anyone even though it's designed for those with hypothyroidism. Think about it…if it helps someone who's thyroid doesn't work – meaning their metabolism is lower than a normal person's metabolism. Then it would work wonders for someone with a normal metabolism.
MBA&M: What are you working on now?
I'm working on a coaching program for those who want more help. I have a lot of requests to help others that live in other states and countries. So, now I can help anyone anywhere because of this online coaching program found at www.ThyroidJumpstart.com
MBA&M: Please tell our readers where to find you and where to find your book?
You can get the book and more free information at www.TheHypothyroidDiet.com Also, if your readers buy the book they can get a free 30-day membership to the TheHypothyroidDiet.com
inner-circle, this is another place to get more help.
Thank you for visiting with My Book Addiction and More and our readers today!!
*******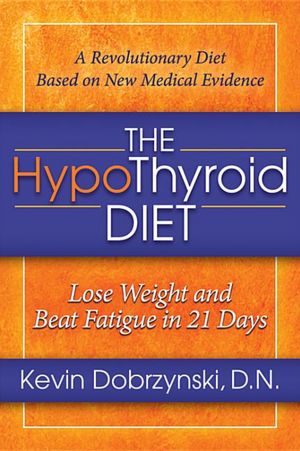 THE HYPOtHYROID DIET:LOST WEIGHT:LOSS WEIGHT AND BEAT FATIGUE IN 21 DAYS
KELVIN DOBRZYNSKI,D.N.
Paperback:166 pages
Publisher:Morgan James Publishing (May 1, 2012)
Language:English
ISBN-10:1614480303
ISBN-13: 978-1614480303
Book Description(from Amazon)
The purpose of "The Hypothyroid Diet" is to help those with hypothyroidism lose weight, beat fatigue, and feel normal again. The number one thyroid disorder in the US is Hypothyroidism yet medication for this problem doesn't always work. This program helps jumpstart the thyroid by removing harmful substances that starve the thyroid and giving it the nutrients it needs to thrive.
BUY LINKS:
Amazon
Barnes & Noble
Chapters Indigo
Books a Million
Powells
********
***GIVEAWAY ALERT***
*Sponsored by the author*
We are offering 1 lucky commenter an e-book copy of "THE HYPOTHYROID DIET" by Kelvin Dobrzynski. Giveaway will run from today March 20 until March 27,2012.
GOOD LUCK EVERYONE AND HAPPY DIETING!!
*********
**We hope you enjoyed today's visit with Kelvin,tell your friends and spread the word**
******
"COMING SOON"
Our "Thoughts" on "The Hypothyroid Diet" by Kelvin Dobrzynski.