TODAY'S SPOTLIGHT AND REVIEW!
THE CONVICT AND THE CATTLEMAN
ALLISON MERRITT
Coming from Lyrical Press January 6, 2014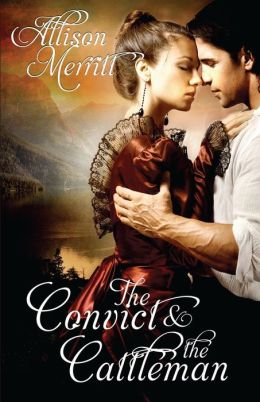 Genre: Historical Romance (Wales, 1800's)
Paperback: 180 pages
Publisher: CreateSpace Independent Publishing Platform (November 12, 2013)
Language: English
ISBN-10: 1493737430
ISBN-13: 978-1493737437
*from Amazon*
His love is the key to her release. Sentenced to seven years of servitude in the penal colony of New South Wales, Bridgit Madden is thrust into a world unlike anything she's known, dangers she never imagined and enemies with their own interests at heart. Certain the conviction has ruined her chances of ever having a real family, she is fearful of her future. Despite his reluctance to take in a convict, grazier and pioneer cattleman Jonah Andrus needs a servant to care for his orphaned niece. When presented with Bridgit, who is far too beautiful and distracting, he initially tries to refuse. However, with a busy cattle station to oversee, he needs help right away. Upon her first meeting with Jonah's niece, Bridgit immediately falls in love with the baby and hopes to unravel the mystery surrounding her birth. As she gets to know her employer better, Bridgit makes it her mission to remind him that family is priceless. When it seems as though she might have found the place she truly belongs, their love is threatened by lies and deceit, and both of them might lose everything they hold dear for a second time. A Lyrical Press Historical Romance
Series: A Lyrical Press Historical Romance
Source: Received for an honest review from the publisher and/or author.
Amazon:
http://www.amazon.com/Convict-Cattleman-Allison-Merritt/dp/1493737430/ref=sr_1_1?s=books&ie=UTF8&qid=1388434444&sr=1-1&keywords=the+convict+and+the+cattleman
Barnes & Nobles:
http://www.barnesandnoble.com/w/the-convict-and-the-cattleman-allison-merritt/1117408564?ean=9781493737437
And other fine retailers!
++++
A bit about the author….
A life-long love of reading turned Allison Merritt into an author who writes historical, paranormal and fantasy romances, often combining the sub-genres. She lives in a small town in the Ozark Mountains with her husband and dogs. When she's not writing or reading, she hikes in national parks and conservation areas.
Allison graduated from College of the Ozarks in Point Lookout, Missouri with a B.A. in mass communications that's gathering dust after it was determined that she's better at writing fluff than hard news.
CONNECT & SOCIALIZE!!
+++
MY THOUGHTS:
THE CONVICT AND THE CATTLEMAN by Allison Merritt is an interesting Historical Romance set in New South Wales in the 1800's. A Lyrical Press Historical Romance. Bridgit Madden is sentenced to seven years of servitude in a penal colony in the New South Wales.  She fears her life is ruined but then enters……cattleman Jonah Andrus, who needs a servant to help with his young niece.
For a story with a HEA,a bit of romance, of course, you have deceit, lies, secrets and a bit of danger, you will find you will enjoy "The Convict and the Cattleman". Bridgit and Jonah have a rough start, then, when it sames things are going to work out, they have a bit of danger. But love can survive trials and troubles. A sweet romance with a HEA!
The characters are engaging, and the storyline was intriguing. A female convict sentenced to servitude and a cattleman looking for a servant. Oh and an orphaned baby! Love is on the way! An enjoyable read! Received for an honest review from the publisher and/or author.
RATING: 4
HEAT RATING: MILD
REVIEWED BY: AprilR, courtesy of My Book Addiction and More
+++
Thanks everyone for stopping by today.
We hope you had a wonderful Christmas Holiday!
HAPPY NEW YEAR!!