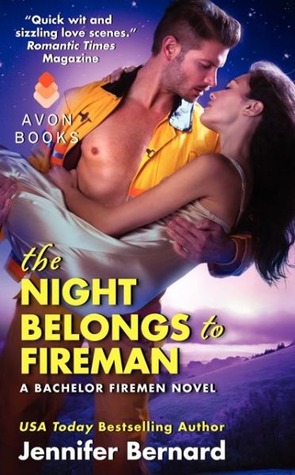 The Night Belongs to Fireman
Bachelor Fireman of San Gabriel #6
Contemporary Romance
Avon
September 30, 2014
ebook
384
www.goodreads.com
Daring . . . Sexy . . . Irresistible . . .
They're the Bachelor Firemen of San Gabriel
When fireman Fred Breen rescues a bachelorette party after a construction crane collapses onto their limo, the media labels him the "Bachelor Hero." But all Fred can think about is the petite brunette with the sexy mane of dark curls who bolted away from him faster than a wildfire after he carried her to safety. And when he discovers she's none other than Rachel Kessler, the daughter of a tech billionaire, the girl whose kidnapping riveted the nation, he intends to learn every intimate detail about this intriguing woman who sets his pulse on fire.
Rachel can't deny the lean-muscled firefighter is smokin' hot. But after having one too many drinks at the bar where she first meets him, Rachel knows she's made a fool of herself. Yet when he rescues her from the limo, she feels safe for the first time since she was held for ransom as a child. Then her overprotective father insists Fred be her bodyguard—and his close presence kindles a burning desire that only he can extinguish.
m
The Night Belongs to Fireman by Jennifer Bernard
My rating: 5 of 5 stars
I received this one from Edelweiss for the purpose of an honest review. First I must say that I have read all of Jennifer Bernard's Bachelor Firemen of San Gabriel books and this one is another hit! As part of a series I'd suggest you read all the books in order, but it is not a must. You can read this one as a stand-alone but you will feel closer to the whole clan if you read them in order. I loved this one. Fred is adorable. There's a touch of suspense added in to keep things moving along nicely. The story overall is fast-paced and engaging. I found the characters believable and enjoyable. The setting as with all the San Gabriel books, makes you want to visit San Gabriel. If you enjoy firemen, romances, and great characters this is one you aren't going to want to miss. Once you start it'll be hard to put down so be sure you can read for an extended time. I highly recommend THE NIGHT BELONGS TO FIREMAN to one and all!