TODAY'S SPOTLIGHT…
DIANE CAPRI
{Mystery Crime Thriller}
{Hunt for Jack Reacher series #2}
~GET BACK JACK~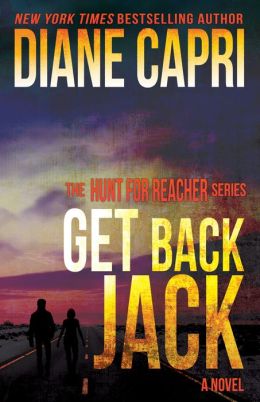 Hunting Jack Reacher is Deadly Business…..
Get Back Jack
FBI Special Agents Kim Otto and Carlos Gaspar's off-the-books assignment leads them to the surviving members of Jack Reacher's elite military unit. Five years ago, Reacher sorted and destroyed a team of arms dealers before he moved on. But he made mistakes. Now, his bad luck and trouble legacy plunges Otto and Gaspar into the minefield of a grudge war between Reacher's fearless old friends and chilling new enemies.
When his enemies take women and children hostage for ransom, Kim's relentless pursuit leads her deeper into the deadly war Reacher failed to finish. Mercenaries and Kim's unwavering heart push her through — until she meets the wrong woman with nothing to lose.
Buy the eBook: Amazon
Buy the eBook: Amazon UK
Buy the eBook: Amazon CA
Buy the eBook: Nook
Buy the eBook: iTunes
Buy the eBook: KOBO
+++++
A bit about the author…..
#1 Amazon and USA Today Bestselling Author Diane Capri's work, #1 worldwide publishing phenomenon Lee Child calls "Full of thrills and tension, but smart and human, too." Margaret Maron, Edgar, Anthony, Agatha and Macavity Award-winning MWA Past President and Grand Master, says: "Expertise shines on every page." And Library Journal raves: "….offers tense legal drama with courtroom overtones, twisty plots, and loads of atmosphere. Recommended."
Diane's new Jess Kimball series kicked off with Fatal Distraction, opening as the #3 Amazon Bestselling Legal Thriller, behind John Grisham. Diane's new Hunt for Jack Reacher series began with Don't Know Jack, which garnered #1 Amazon Bestseller spots on Mystery, Hard-boiled Mystery, Police Procedural, Women Sleuths, and Legal Thriller lists both in the U.S. and U.K. and has spent more than 52 weeks in the top 20 legal thrillers. Don't Know Jack was followed by two bestselling short stories in the Hunt for Jack Reacher series, Jack in a Box and Jack and Kill. The second novel in the series is Get Back Jack, available now. Diane's Bestselling Justice Series suspense mysteries were praised by Romantic Times and garnered the coveted "Top Pick."
Diane is the past Executive Vice President of International Thriller Writers, past member of the Board of the Florida Chapter of Mystery Writers of America, and active in Sisters in Crime and other writing organizations. She comes to writing after a successful legal career and is married to her college sweetheart. She loves her nomadic snowbird existence preferring perpetual summer migrating from Florida to Michigan each year.
Diane says she writes mystery, thriller and suspense for the same reason she reads: to find out what happens, why people do what they do, and how to bring justice to an unjust world. Her books are translated in twenty territories. Diane loves to hear from readers. Contact her at to receive notice of new releases, subscribe to Diane's blog, or simply connect with her.
Website: http://dianecapri.com/

Facebook: http://www.facebook.com/pages/Diane-Capri/187483551314626
Twitter: http://twitter.com/@DianeCapri
Pnterest: http://pinterest.com/dianecapri/
Google +: https://plus.google.com/u/0/108513628896427449749/about
++++
A bit of Praise….
"Full of thrills and tension, but smart and human, too. Kim Otto is a great, great character – I love her." Lee Child, #1 New York Times Bestselling Author of Jack Reacher Thrillers
Pick up your copy of "Get Back Jack" by Diane Capri at one of the above stores!!!
++++
Thanks everyone, and if you get the chance please spread the word!!