TODAY'S SPOTLIGHT….
~THE SPYMISTRESS~
[Literary Fiction/Historical Fiction]
JENNIFER CHIAVERINI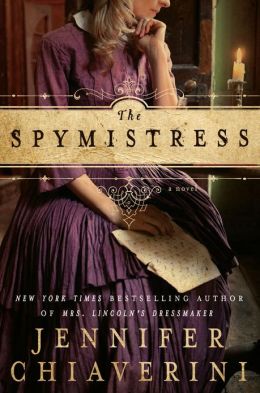 New York Times bestselling author Jennifer Chiaverini is back with another enthralling historical novel set during the Civil War era, this time inspired by the life of "a true Union woman as true as steel" who risked everything by caring for Union prisoners of war—and stealing Confederate secrets.
Hardcover: 368 pages
Publisher: Dutton Adult (October 1, 2013)
Language: English
ISBN-10: 0525953620
ISBN-13: 978-0525953623
Born to slave-holding aristocracy in Richmond, Virginia, and educated by Northern Quakers, Elizabeth Van Lew was a paradox of her time. When her native state seceded in April 1861, Van Lew's convictions compelled her to defy the new Confederate regime. Pledging her loyalty to the Lincoln White House, her courage would never waver, even as her wartime actions threatened not only her reputation, but also her life.
Van Lew's skills in gathering military intelligence were unparalleled. She helped to construct the Richmond Underground and orchestrated escapes from the infamous Confederate Libby Prison under the guise of humanitarian aid. Her spy ring's reach was vast, from clerks in the Confederate War and Navy Departments to the very home of Confederate President Jefferson Davis.
Although Van Lew was inducted posthumously into the Military Intelligence Hall of Fame, the astonishing scope of her achievements has never been widely known. In Chiaverini's riveting tale of high-stakes espionage, a great heroine of the Civil War finally gets her due.
Buy Links:
Amazon: http://www.amazon.com/The-Spymistress-Jennifer-Chiaverini/dp/0525953620
Indiebound: http://www.indiebound.org/book/9780525953623
Barnes and Nobles: http://www.barnesandnoble.com/w/the-spymistress-jennifer-chiaverini/1114924441
++++
A bit about the author…..
JENNIFER CHIAVERINI is the author of the New York Times bestselling Elm Creek Quilts series and Mrs. Lincoln's Dressmaker. A graduate of Notre Dame and the University of Chicago, she lives in Madison, Wisconsin, with her husband and two sons.
Visit her website: http://www.jenniferchiaverini.com
++++
~My Thoughts~
http://mybookaddictionreviews.com/2013/10/25/review-the-spymistress-by-jennifer-chiaverini/#respond
++++
Thank you everyone for stopping by today for our spotlight on author, Jennifer Chiaverini!!