MBA&M AND PUMP UP YOUR BOOKS PROUDLY PRESENTS……
C. ELIZABETH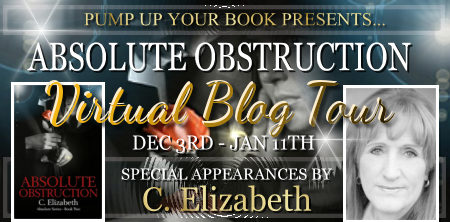 Absolute Obstruction

Being lonely isn't anything new for 45 year old Rose Terrance.  After all, that's what she signed up for when she married beautiful, 33 year old movie star, Michael Terrance and in spite of her loneliness, their love stays strong.  However, their love, nor Michael's vehement overprotectiveness, can shield Rose from a threat that is beyond Michael's comprehension, one that annihilates his heart and lines his soul with guilt.
Michael has murderous intentions that lead him to a place he has already asked Rose to forgive him for, taking the phrase "I would die for you" to the extreme.
* * * * *
C. Elizabeth lives in St. Albert,  Alberta, Canada and during her short writing career she's learned a lot about herself, sometimes to the point that she wonders how the heck she got this far in life and know so little about herself.
For the majority of her life she dabbled in many things, such as drawing, photography, sewing, only to find that after a while, she would lose interest, but writing is a different story – it found her and continues to be an addiction, as well as a most wonderful, incredible passion.
Not only does she write novels, but she does whatever she can to hone her craft.  Such as attending the New York Pitch Conference, seminars and the like, as well, she writes for online magazines on the topic of… you guessed it, writing.
You can learn more about C. Elizabeth at her website at  www.celizabeth.ca.
*******
 Paperback/Ebook Formats best price:
Wings ePress Inc.
Kindle:
Amazon
Nook/All Other Ebook:
Barnes & Noble
~~~
Absolute Obstruction Virtual Book Publicity Tour Schedule
Monday, December 3
Book Review at Cafe of Dreams Book Reviews
Tuesday, December 4
Guest Blogging at The Writer's Life
Wednesday, December 5
Interview at Blogcritics
Thursday, December 6
Guest Blogging at  Curling Up By the Fire
Friday, December 7
Guest Blogging at The Story Behind the Book
Monday, December 10
Book Review at My Book Addiction Reviews
Tuesday, December 11
Character Dear Santa Letter at Literarily Speaking
Wednesday, December 12
Interview at Examiner
Thursday, December 13
Book Feature & Giveaway at Delphina Reads Too Much
Friday, December 14
Book Review at Miki's Hope
Wednesday, January 2
Guest Blogging at Lori's Reading Corner
Thursday, January 3
Book review at Read It All Reviews
Friday, January 4
Guest Blogging at The Top Shelf
Monday, January 7
Book Review at Waiting on Sunday to Drown
Tuesday, January 8
Interview at Laurie's Non-Paranormal Thoughts and Reviews
Book Review at Teena in Toronto
Wednesday, January 9
Character "Dear Reader" Letter at Literarily Speaking
Thursday, January 10
Book Review & Giveaway at Mary's Cup of Tea
Friday, January 11
Book Review and Guest Blogging at Paranormal and Romantic Suspense Reviews
~~~~
Check out "Our Thoughts" on "Absolute Obstruction" by C. Elizabeth!
~~~~
Thank you for visiting with us today!
~~~~
MERRY CHRISTMAS!!