~Good morning,Bronwen! We always enjoy your visit with us and our readers. So without further ado, welcome, BRONWEN~
Where do ideas come from?
By Bronwen Evans
Hello, April and team. I hope everyone is beginning to feel more fighting fit. I've been thinking of you!
For those who don't know me, April will tell you that I'm a historical author. I have, however, just completed a contemporary romance, THE RELUCTANT WIFE, Entangled Publishing Indulgence, and April's not the only one interested in this turn of events. Many readers and other authors have asked me why I've written a contemporary.
Here's the blurb:
Abby Taylor walked out on her irresistible husband three years ago. Now she has no choice but to return to Italy to ask him for a favor. To pay for her grandmother's heart operation she needs his money, but it comes with strings attached.
Conte Dante Lombardi has it all—an Italian villa, a successful family business, and a noble title. But he needs a child to carry on his legacy and time is running out. He also hopes to satisfy the desire Abby rouses in him.
As Abby uncovers why he's in such a hurry for a child, she falls in love with him again … just as she realizes it might be impossible to keep her end of the deal.
…an intense, passionate rollercoaster of a love story—just perfect!
– USA TODAY bestselling author Natalie Anderson
For most people, a writer's world is hard to understand. It's not every day that you have characters chatting inside your head while you're trying to live your normal everyday life, which involves writing a book with a completely different set of characters, or working a normal job, or being with friends and family. For me, I always have characters popping in to visit me at the most inopportune times.
However, I'm not going to complain because, without my characters, I doubt I'd have any stories to tell. Sometimes a character introduces him or herself, and tells me their predicament and simply begs me to tell their story, so that they can get their happy ever after. Other times I have an inkling of an idea for a story and from the mist that is my brain, characters appear.
 In terms of THE RELUCTANT WIFE, it was the characters stalking me that made me need to write the story. A young Abby Taylor, newly married, came to me for advice and help. She had just married Dante Lombardi, an Italian Conte who was older, worldlier, and very sophisticated and she didn't know how to deal with him. I immediately thought of Princess Diana when she married Charles. What must it have been like for her, young, alone in a powerful family? So I suppose it was a combination of characters, my imagination and real life.
But then the medical situations in THE RELUCTANT WIFE are drawn from real life. I suffer from endometriosis and as such I knew a little of what Abby was going through. As for Dante, his driving need for children was based on fear. His father and grandfather died young and I have a friend whose father died the same way. At a relatively young age this friend was diagnosed as well. My friend runs one of New Zealand's biggest family companies and the focus immediately turns to children. Who inherits etc?
Dante has more than just his family's business empire to be concerned with. He has an ancient family title which entails their family home. His family would lose a lot if he doesn't have a child who can inherit.
I find that things around me affect me as an author. Whether that triggers the characters to arrive or the characters make me look at the world around me differently, I'm not sure. Perhaps it's a bit of both. All I know is that I'd hate to ever find myself lonely, without any visitors inside my busy head.
The characters, and life around me, allowed me to plot out a very real and poignant story in The Reluctant Wife. One that is very personal to me. All I know is I'm pleased Abby introduced herself to me.  I loved writing Dante and Abby's journey to their happy ever after. I actually found it quite cathartic.
______
Here's a taste of their story:-
Abby had completely deceived him. Dante had thought her naïveté would make her easy to manage. He'd quickly learned that Abby had more backbone than any woman he'd ever met. Her readiness to challenge him seemed to add to her allure. Now, again, here she was asserting her wishes, taking command…
Abby licked her lips. "I don't owe you anything. And, as we're divorcing, I'm the last woman you should have a child with. Besides, I don't care what you do in your personal life."
She lied. Her arms were folded across her stomach as if she were warding off a blow.
"You care. You know I could always read your body as well as a blind man reads braille."
Abby shook her head, the emphatic movement flinging her thick blond hair over one shoulder. Her eyes narrowed. "Can you read what I'm thinking now?"
He searched Abby's drawn face, recognizing the marks of strain in the bluish shadows beneath her eyes and the set of her delicate jaw. She had the strength of fine bone china, and the fragility.
"I know exactly what you're thinking." He tilted his head and tapped his chin with a finger. After a theatrical pause he spoke deliberately. "You wish you'd waited until the morning to meet with me. You're angry with yourself for still wanting me, and you're wondering whether one kiss from my lips can still make you come."
He felt rather than saw her body tremble across the room, and heard her soft gasp.
"Of all the arrogant, conceited…"
"Most of all, you're remembering the first night you were in this room, how you let me seduce you, how I made love to you into the small hours of the morning."
The hazel of her eyes glittered almost golden as he watched her fight tears. He tried to keep his heart unresponsive, but the beauty of her pale face, the dark circles under her eyes, and above all her stricken look of profound loss assailed his protective barrier.
"You want a favor from me. I want a favor—or two—from you. I'd call it a mutually beneficial business proposition. I know you need money and I'm happy to help. For a price. You are my wife, this is where you belong." A traitorous pulse flickered fast just below her collarbone, calling attention to the delicate skin of her throat. His body shuddered into life, with total recall of the addictive taste of her skin.
She quivered as his eyes roamed her small frame. Every detail screamed at him—the dark of her dilated pupils, the flush on her cheeks, the moist pink of her parted lips. She wanted him and though she shook with the effort, she couldn't hide the giveaway signals. Cursing inwardly, he felt his body respond to the recalled pleasure of their days and nights of intimacy.
"But I'm not yours. Not anymore."
 "Legally you are still mine!"
"I am not a possession, Dante. As I said four years ago, I'm a flesh-and-blood woman with feelings and desires."
"Come here." He patted the couch beside him. "I'll satisfy those feelings and desires."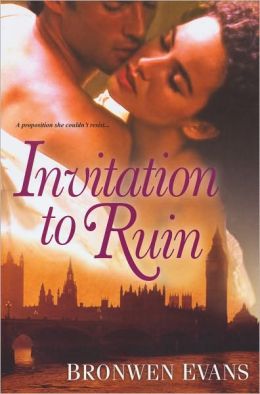 Thanks for dropping by. Tell me what color Abby's eyes glittered (read above) and be in to WIN a copy of my award winning book INVITATION TO RUIN in book or ebook format. Open internationally.
 www.bronwenevans.com
@bronwenevans_NZ
www.facebook.com/bronwenevansauthor
Title: The Reluctant Wife
Author: Bronwen Evans
Genre: Category – Contemporary
Length: 175 pages
Release Date: December 2012
ISBN: 978-1-62266-868-7
Imprint: Indulgence
ENTANGLED PUBLSIHING:
http://www.entangledpublishing.com/the-reluctant-wife/
AMAZON:
______
GIVEAWAY ALERT!
(Sponsored by the author)
Answer the above question!
GOOD LUCK EVERYONE!
_______
 COMING SOON!
"OUR THOUGHTS" on this title. Also, check out "Our Thoughts" on "INVITATION TO RUIN".
_________