WELCOME,EILEEN TO MY BOOK ADDICTION AND MORE TODAY…
MBA: Tell our readers a little about yourself?
  Well, I've been writing romance and suspense for a good few years. As Kathleen Korbel I wrote Silhouette romance and gained a place in the Romance Writers of America Hall of Fame. As Eileen Dreyer I've also written best-selling medical-forensic suspenses set mostly in my native St. Louis.
I'm now writing what I call historical romantic adventure, set in the Regency period. I'm following a group of gentleman spies(I know. It's been done. But it's been done because it's so much fun) as they fight to protect England from nefarious spies(I love nefarious spies).
In my other life, I'm a mostly retired trauma nurse who is trained in forensics and death investigation, including a stint learning how to be a medic on a SWAT team. My real addiction, though, is traveling with my husband. I am the Queen of Internet Travel and love to share my experiences and recommendations(see my Travel for Fun page on my website)
MBA: What do you find intriguing,if anything, about writing during the Regency era?
I love this period. Not only were there very specific parameters to behavior for everyone, but there was still romance and beauty, and the remains of an agrarian society that would soon be lost to industy.The whole world was in upheaval. Not only had an entire generation been defined by the war with Napoleon, but this was the very beginning of the Industrial Revolution, the rise of the middle class in England; the world was opening for exploration and exploitation, and social mores were just about to make a radical change. There is so much material, so many real who inspire stories. And it was still a time when heroes were heroes.

MBA: What relaxes you after a hard day of writing? And who or what helps you to relax the most?
Well, right now I'm watching Cardinal baseball(although after this season I'm not sure how relaxing it is). I am a rabid gardener. Not only is there something soothing about playing in the dirt, but I love flowers. They provide a certain immediate gratification. You plant them, water them, feed them, and all they want to do is  bloom. My garden gets bigger every year(but I'm a terrible fall gardener).
And then, when my husband and I scrape two dimes to rub together, we travel. The world is infinitely fascinating, and there are so many people to meet and get to know. And half the fun for me is the planning. I truly am the Queen of Internet Travel.
MBA: Eileen, can you give our readers a few tidbits about any future project(s)?
Well, my fondest wish is to write every Rake's story. I've just learned from Grand Central Forever that they want the next   two stories, those of Ian Ferguson and Alex Knight. Chuffy also gets his story in Alex's book. I really hope I get to do all of them, because I already know what their stories are, and I'm dying to write them.
MBA:  Now, Eileen, tell our readers where to find you and where to purchase "Always A Temptress"?
Temptress is out everywhere in paper and ebook. I'd love for   you to find it and let me know what you think. And if you've  seen any of the discussion on my last two books, you'll know that not everybody liked them. But everybody seemed passionate about them, and that makes me happy.
As for finding me,I have a website, of course.   Www.eileendreyer.com. I'm on Facebook with
my page and a page for Drakes Rakes, Twitter(eileendreyer), and GoodReads. I tend to be streaky, as they say in baseball, showing up a lot one day and not so much the next while I  try and write. But I always get there. And if you want to drop me a note, my
email is simple.      eileendreyer@eileendreyer.com.
        Thanks so much for inviting me to visit. I've really enjoyed the time, and hope everybody gets something out of my answers. And I leave you all with my own question. I know you've read historical series. What kind do you like best? Families? Spies? Brothers-in-arms or brothers-from-schools? And why?
Get in touch: eileendreyer@eileendreyer.com
Friend her  on Facebook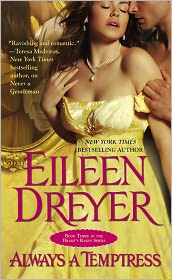 ALWAYS A TEMPTRESS
By Eileen Dreyer
SOURCE: Received for review from the publisher
Produck Description:
ALWAYS A TEMPTRESS
His greatest battle is just beginning . . .
Captain Harry Lidge has done his duty. After losing too many good men on the battlefield, he's ready to put his responsibilities behind him and live a life free of care. But first he has one last mission: find out
what the most outrageous woman in London, the same woman who betrayed him nearly a decade earlier, is concealing, before her secrets take down the crown.
Her heart is the only thing she won't risk . . .
Surrounded by ardent admirers and a few loyal friends, Lady Kate Seaton glides through the ton on a confection of couture gowns and bon mots. No one suspects that beneath her lighthearted façade Kate hides a sorrow so scandalous she'll do anything to keep it hidden. But only when she trusts Harry with the truth and only when he trusts her with his heart can they stop the villains all too willing to kill Kate to attain their ultimate goal: destroy England.
MY THOUGHTS:
ALWAYS A TEMPTRESS by Eileen Dreyer is an exciting historical romance set in  1815 Dorsetshire,England. It is Book #3 in "Drake's Rake's Series",but can be read as a stand alone. See " Barely a Lady",and "Never a Gentleman". This is the story of Major Sir Harry Lidge and Lady Kate Seaton.Sir Harry and Lady Kate have a history with each other. While,Lady Kate is a widow, has a scanalous and outrageous past,but few know the truth of her facade. Sir Harry, has had a nightmarish past with his miltary.Together,with some reoccuring Drake's Rake's they must found a verse,someone is willing to kill Lady Kate,save country,find a traitor,and keep Lady Kate from his brother's clutchs. A fast paced story full of sexual tension,romance, love,mystery, suspense,secrets,betrayal,passion,trusts,and sweet sensuality. "Always a Temptress" will appeal to any historical,romance,mystery readers.With a blossoming romance and a cart load of danger and sensual tension what's not to enjoy. A must read. Received for review from the publisher.Details can be found at Forever,an imprint of Grand Central Publishing.
RATING: 4.5
REVIEWED BY:April Renn 
Thank you, Eileen so much for visiting with us today…
And for my answers to your questions,I love all historicals. But I have to admit  I enjoy,spies better than families,Brothers-n-Arms better than Brothers-n-school. Why,you ask,I think because I enjoy the call to action by the brother-n-arms,and ,the promise of more danger. Spies better  than families, I don't really know I guess because spies seem to see more action.Although,families can get pretty dare active also.
***GIVEAWAY***
Now,dear commenters, you must answer our wonderful visitor's questions also, in order for 1 lucky commenter to win a copy of "Barely a Lady" or "Never a Gentleman",either print or e-book. Open to U.S. residents only. No P.O. Boxes,please. Givewaway will run from today October 7 until October 14.2011.
GOOD LUCK EVERYONE!!