IT IS OUR PLEASURE TO WELCOME CAROLINE LINDEN  TO MY BOOK ADDICTION AND MORE TODAY…..
MBA:Caroline,tell our readers a little about yourself?
    CL: I'm sort of an oddball for a romance writer. I did NOT want to be a writer from the time I was little, or even…young. I loved to read all my life, but never considered writing a book. My degree is in mathematics, and I wrote computer programs for a few years. And then I had two small children. We moved to a new town. I didn't know where the bookstores were, and I didn't have free time until late at night anyway, after my little ones finally went to sleep. I had NOTHING TO READ, and finally, in desperation, I started writing a story. And it turned out to be wicked fun, so I kept going.
Otherwise my life is pretty ordinary. I live in New England with my family and a very rambunctious dog, who is my writing partner (I write, she keeps my feet warm).
MBA: What, if anything influenced you to write historical romance?
CL: I've always loved history, and love stories, so writing historical romance is sort of my dream job. I have ideas for other types of books, but for now I'm sticking with the gentlemen in top hats and tall polished boots, and the ladies in flowing dresses and bonnets.
MBA: Can you give our readers a few tidbits on your future project(s)?

CL: My future projects are tied to my current project. Right now I'm writing the final book in a trilogy about three brothers who discover they might lose everything because their father, the duke, might not have been legally married to their mother. The first book is called ONE NIGHT IN LONDON, about the middle brother; the second book, coming in March 2012, is called BLAME IT ON BATH, about the youngest brother; and the final book, coming in September 2012, will be called THE WAY TO A DUKE'S HEART, about the eldest brother. And after that I am taking some vacation!

             
MBA: Caroline,since the holidays are around the corner,give our readers an insight into your festivities?
 CL: Cookies. There will be lots and lots of cookies. There isn't a holiday around that can't be improved by some chocolate-peppermint chewies, or some raspberyy rugelach, or some cranberry-vanilla shortbread. Yum! I live for cookies.
MBA: What relaxes you after a long day with deadlines,family and friends?
 CL: I wish I could say long, leisurely foot massages. Often it's a glass of wine, while curled up on the sofa with my husband, watching a movie or Stanley Cup final (BRUINS RULE!!!!).
MBA: Now Caroline,tell how readers where to find you and where your books are available?
 CL: My books are available in print from any bookstore (even the older ones can be ordered), and in e-book format from all the major retailers like Amazon.com, BN.com and so on. On my website (www.carolinelinden.com) I've posted excerpts, reviews, and behind-the-scenes bits about all my books, so you can sample my work. And I hang out at Facebook (http://www.facebook.com/AuthorCarolineLinden) more now, too; it's so easy to chat with people there. Come on by! The more, the merrier.
—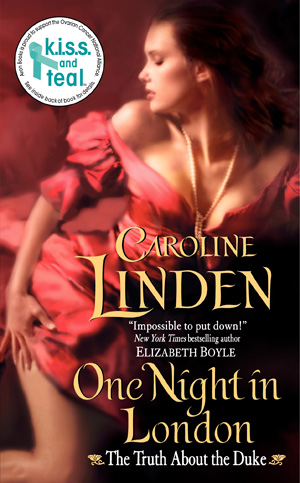 One Night in London
September 2011 Avon Books ISBN-13 978-0-06-202532-6
Lord Edward de Lacey has noble expectations—until a secret from the past threatens to cost him everything. Francesca Gordon will stop at nothing to find her niece— not even bargaining with the ruthless Lord Edward. But what begins as purely business might become something closer to pure passion…
Coming in March 2012!!
Blame it on Bath
March 2012 Avon Books ISBN 978-0-06-202533-3
Lord Gerard de Lacey is out to catch the blackmailer who could ruin his family—as well as a wealthy wife for himself, just in case. Katherine Howe needs a husband—and has harbored a secret affection for Gerard for years. Neither expects the other to fall in love, but this marriage that begins as simple convenience could become oh-so-much more…
Thank you Caroline for taking the time out of your busy schedule to visit with us today…
Now readers if you have not purchased or read Caroline's "One Night In London", please check out her website for that and her other books…..