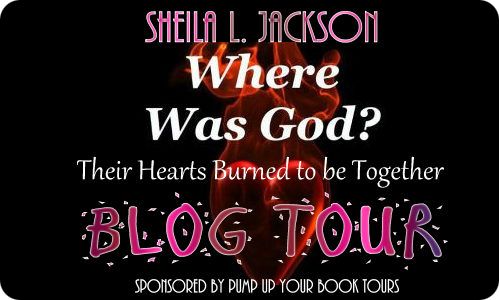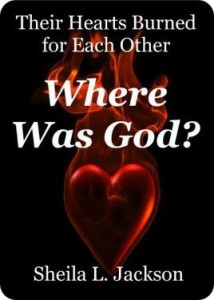 Title: Where Was God? (Their Hearts Burned to be Together)
Genre: Christian Fiction Romance Suspense
Author: Sheila L. Jackson
Publisher: Concerning Life Publishing
Pages: 226
Format: Paperback/Kindle
Where Was God? Fayth Angelica Hope, questioned after the death of her father. Reared by a mother who could give, Cruella Deville, a run for her money as, "The Queen of Mean," Fayth turns her back on the church, her faith, and love. She believed, no, just and merciful God would have abandoned her to the harsh brutality of her mother's iron fist. Her emotional and spiritual scars run deep, lasting into adulthood.
As a promising investigative reporter, she decides to change her name. Her given name of Fayth has more curses attached to it than blessings. She hopes the switch to Angelica will give her the clean slate she desires.
Assigned to investigate financial advisor Jasion McCoy, Angelica goes in determined to expose him for embezzlement. She hopes the story will advance her career as one of the top reporters across the country. Instantly, there is an attraction. But she hides her feelings from him. After a series of missteps, broken heartedness, and rejections in her past, she buries the notion of any man, especially a man of his caliber, ever loving her. With the evidence stacked against him, she believes his only interest in her, is to keep from going to prison.
Top-notch financial advisor Jasion McCoy is in the middle of an embezzlement scheme. When Angelica Hope shows up in his office, he knows he's in trouble. She is one of the hottest investigative reporters in Port City and now she's gunning for him. How can Jasion convince her that he is innocent? And how can he hold back his feeling for the woman who's out to do him in?
226 pp.
Buy Link:
Amazon:
http://www.amazon.com/Where-Was-God-Sheila-Jackson/dp/0988922584/ref=tmm_pap_title_0
————————-
BOOK EXCERPT:
Twelve-year-old Fayth Angelica Hope sat motionless next to her aunt as the mourners flooded the Saint Gabriel Baptist Church fellowship hall. She rolled her red, puffy eyes heavenwards as she tried to make sense of her father's death. Bursts of laughter jolted her senses. What is so funny, she thought? The grieving faces she had seen earlier now beamed with excitement.  Stories and jokes about her father's life filtered throughout the small, stuffy room, which sent flames shooting from her nostrils.
"My father is dead and these people are celebrating," Fayth cried as anger continued to well up inside her petite frame. Shaking her head in disbelief, she collapsed onto her aunt's broad shoulder, giving in to the tears that tugged at her heartstrings.
"That's what people do after funerals, baby. They remember the dead," Beatrice said, cuddling her arm around her distraught niece. "Your dad was a good man."
————————
Discuss this book in our PUYB Virtual Book Club at Goodreads by clicking HERE
————————-
MEET THE AUTHOR: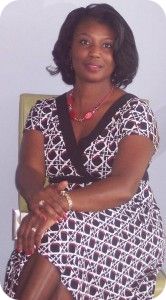 Sheila L. Jackson lives with her family in Shreveport, Louisiana. She is an anointed speaker, teacher, and writer that utilize her gifts to carry the Word of God to those in need of spiritual soul food. Sheila has penned two, inspirational non-fiction books, The Enemy Within and Through the Eyes of God. She has also written several inspirational and social articles for a local newspaper and magazine.
Her latest book is the Christian fiction romance suspense, Where Was God? (Their Hearts Burned to be Together).
For more information about this author and books, visit her website at www.sheilaljackson2.com.
CONNECT & SOCIALIZE!
——————–
FOLLOW THE TOUR:
Pump Up Your Book Presents Where Was God Virtual Book Publicity Tour
——————-
Presented by:
Pump Up Your Book:
————————-
MY THOUGHTS:
WHERE WAS GOD? by Sheila L. Jackson is an exciting Inspirational  Romantic Suspense set in Port City, Louisiana. Meet, Fayth Angelica Hope, her mother,Cruella Deville("The Queen of Mean"), and Jasion McCoy, a financial advisor.
Fayth, after being reared by a cruel mother, starts to use her middle name, Angelica, thinking this will  help her get a new start, as an investigative reporter. Her mother is cruel and brutal, leaving Angelica with emotional and spiritual scars.
Jasion MCoy, is a financial advisor, who is caught in the middle of an embezzlement scheme. Is he innocent or guilty of embezzlement? This is what Angelica intends to find out and expose the truth.
Together, the two find sparks, broken hearts may be able to heal, forgiveness, healing, hope, mystery, suspense, danger, faith and the power of love.
Don't let the title stop you from reading this fast paced, well written tale of finding love, redemption, rescuing and healing hearts. The characters are engaging, the storyline is powerful and interesting.  A great debut by this author, and one to watch out for in the future. A great tale to be sure and one I enjoyed. If you enjoy Romantic Suspense, a psychological Thrillers, and finding love, than you will enjoy "Where Was God?". A complex tale of healing and forgiveness. Well done, Ms. Jackson. I hope to read more from this author. Received for an honest review from the publicist and/or author.
RATING: 4
HEAT RATING: SWEET
REVIEWED BY: AprilR, courtesy of My Book Addiction and More