VISIT DONNA GRANT'S FORUM FOR AN EXCITING "PRIMAL HEAT" CONTEST…
HERE IS THE LINK:
http://www.donnagrant.com/forum/forum.php
FEATURING,bestselling author of Dark, Sexy, Paranormal Romance DONNA GRANT
Donna Grant is the award winning author of more than twenty novels spanning multiple genres of romance – Scottish Medieval, historical, dark fantasy, time travel, erotic, and paranormal.
Donna was born and raised in Texas but loves to travel. Her adventures have taken her throughout the United States as well as to Jamaica and Mexico. Growing up on the Texas/Louisiana border, Donna's Cajun side of the family taught her the "spicy" side of life while her Texas roots gave her two-steppin' and bareback riding.
Her childhood dream was to become a professional ballet dancer and study under the amazing Mikhail Baryshnikov. Though she never got to meet Baryshnikov, she did make it to New York City and performed in the Macy's Thanksgiving Day Parade. Later, Donna's love of the romance genre and the constant stories
running through her head prompted her to sit down and write her first book. Once that book was completed, there was no turning back.
Donna sold her first book in November 2005 while displaced from Hurricane Rita, a storm that destroyed portions of the Texas Gulf Coast. Since then, Donna has sold novels and novellas to both electronic and print publishers. Her books include several complete series such as The Druids Glen, The Shields, The Royal
Chronicles, the Sisters of Magic, and the Dark Sword series.
Despite the deadlines and her voracious reading, Donna still manages to keep up with her two young children, three cats, and one long haired Chihuahua. She's blessed with a proud, supportive husband who's learned to cook far more than frozen chicken nuggets.
Visit Donna at: http://www.donnagrant.com
Order eBook
"PRIMAL HEAT" 
BLOG TOUR SCHEDULE
OCT 6
http://redrosesforauthors.blogspot.com
OCT 12
http://moonsanity.blogspot.com
OCT 17
http://novelthoughts.wordpress.com
OCT 19
**FOLLOW DONNA ON HER TOUR STOPS**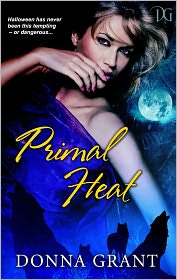 PRIMAL HEAT
DONNA GRANT
Re-issued novella
Pub. Date: September 2011
Publisher: Donna Grant
Release Date: Oct 2011
BN ID: 2940013348486
SOURCE: Received for review from the author
OVERVIEW
Being an American in Britain isn't easy. For Krista, its downright hard especially when she's plagued by erotic dreams that increase as Halloween approaches. So when she's given a dare by her co-workers to pluck a rose from the most haunted house in Cardiff, she agrees never thinking it would be more than a scare tactic.
As a Tracker, all Orrin wants to do is capture the Were's before they feed off the people of Cardiff, but when he lands on Earth and discovers the woman he's been sharing dreams with is there, he can't help but find her. All he plans to do is talk, but the lust that flares between them leaves no room for talking.
But the Were's have come for more than food. They've come for Krista, to claim her as the mate to their leader. To resist their seduction is futile. Unless a Tracker is involved.
MY THOUGHTS:
PRIMAL HEAT by Donna Grant is an exciting paranormal romance set in Cardiff,Wales,UK and  that will have you turning pages from beginning to end. This is the story of Krista and Orrin. Krista,an American living in Britain,in search of something she doesn't understand,and she is having erotic dreams of a sexy, handsome, man she can't see his face,but knows his touch. Orrin Black,is a Tracker from another world who tracks down werewolves befor they can feed on humans. Krista,has "called to" Orrin,neither understands their attraction to each other,but Orrin has been having erotic dreams of Krista also. This is a quick,fast paced paranormal with a bit of sci-fi. A must read to see why Krista and Orrin are "called" to each other. "Primal Heat" is sure to attract any paranormal,sci-fi,and romance readers. Donna Grant has done it again with "Primal Heat".Received for review from the author.
RATING: 5
REVIEWED BY: April Renn 
***GIVEAWAY***
We are offering  1 lucky commenter winner's choice of 1 e-book copy  off the following list: ("Highland Fires","Highland Magic","Dragonfyre","Mesmerized", OR "Forever Mine" )by Donna Grant.Giveaway will run from today October 4 until October 11,2011.You MUST comment in order to win..
GOOD LUCK EVERYONE!