WELCOME,JODI, TO MY BOOK ADDICTION AND MORE TODAY….
THE COMFORTS OF HOME will be hitting the stands on Nov. 1, 2011 and I'm very excited to see my people of Harmony, Texas come alive.  In my mind they already are and sometimes I feel like they're so real that I could pack my bag and go down for a visit any time I liked.With writing it's always been that way for me.  I don't really feel like I create characters, I feel like I just meet people and get to know them.  If I'm lucky they tell me
their story.  When I meet people who read and love my books I always like to hug them.  After all, we have friends in common.
In THE COMFORTS OF HOME  I wrote about people who probably live all around us but we never take the time to know.  One was Ronelle Logan.  She'd lived and worked at the post office without anyone noticing her.  She solved the funeral home's crossword puzzles before she handed over the magazines, but no one complained.  Tyler Wright, the funeral director, just brought her a huge crossword puzzle book.  He was a kind man who tried to help everyone he came across.  In the lives of these people now and then, wonder happens, brightening the world around.
Comforts of Home is about the people in a small town who come together to celebrate life.  They care about one another.  Many nights when I sat down in my study to write I felt as if I was stepping into a world, a place that was as real to me as my life.  I never think of my people as characters in a story, but always as people.   They walk though my life and make it a richer place and I hope they'll do the same for you as you read THE COMFORTS OF HOME.
Enjoy!
Jodi Thomas
***Readers you can pre-order your copy of " The Comforts of Home" books on          www.jodithomas.com
Thank you,Jodi,for taking the time out of your busy schedule to visit with us today…. 
***GIVEAWAY***
Thanks, to Jodi, we are offering 1 lucky commenter a print copy of "THE COMFORTS OF HOME". In order to win you MUST comment on what you learned from our author's post.This giveaway is will run from  today October 24 until  November 1,2011. Open to U.S. and Canada residents. No P.O. Box pleases.
GOOD LUCK EVERYONE!!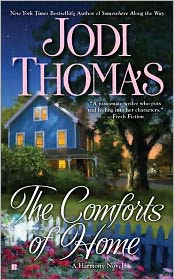 THE COMFORTS OF HOME
JODI THOMAS
Pub. Date: November 2011
Publisher: Penguin Group (USA)
ISBN-13: 9780425244487
ISBN: 0425244482
SOURCE:Received for review from the author/publisher
Product Description
In Harmony, Texas, twenty-year-old Reagan Truman has found her place, and found her family. But with her uncle taken ill and her friend Noah lost and disheartened with his life, Reagan is afraid of ending up alone again, and she's not the only one. When a terrible storms threatens the town, the residents of Harmony are forced to think about what they really want. Because making the connections they so desperately desire means putting their hearts at risk…
MY THOUGHTS:
THE COMFORTS OF HOME by Jodi Thomas is an  interesting contemporary romance set in Harmony,Texas. This is #3 in the "A Harmony Novel". See "Welcome To Harmony",and "Somewhere Along The Way". Come meet the characters of Harmony,Texas you will not regret the visit. This is a compelling,heartfelt,powerful,gripping story of love,romance,family,community,with secrets,danger and finding home. The characters will tug at your heart strings as they each find their way,and learn the meeting of love,peace and happiness. Harmony, Texas is a town with likable townspeople,who are human in everyway,and jump off the pages. An emotional story,that will keep your turning pages. A must read for any romance readers and any reader who enjoys a heartwarming story. I can hardly wait for the next installment. Received from the author and publisher for review. Details can be found at The Berkley Publishing Group,published by Penguin Group and My Book Addiction and More.
***Coming soon "JUST DOWN THE ROAD" from The Berkley Publising Group***
RATING: 4.5
REVIEWED BY: April Renn