IT IS OUR PLEASURE TO WELCOME TO MY BOOK ADDICTION AND MORE GRACE ELLIOT TODAY…….
MBA:  Grace, please tell our readers a little about yourself?
Hello, and thank you for the warm welcome!
    GRACE: My name is Grace Elliot and I lead a double life as a veterinarian by day and author of historical romance by night. I work in companion animal practise just outsideLondon, in a village with a duckpond in front of the Norman church – history is all around me!
I also act as housekeeping staff to five cats, two teenage sons and a guinea pig (not necessarily in order of significance!) I'm an avid reader and will give any genre a go, but my favourite is historical romance. My debut novel, "A Dead Man's Debt" was published last year, and the first of The Huntley Trilogy, "Eulogy's Secret" was released this October!
MBA:  Grace, we understand you are a Vet by day,how hard it is to change hats from a Vet to an author?
GRACE: It's relatively easy to switch hats, because the two occupations – vet and author – compliment each other wonderfully. Let me explain. Veterinary medicine requires cool, logical thinking, with decisions made on the basis of fact and science, rather than flights of imagination – but I'm a creative person (a lot of vets are, something about with working with animals and being good with your hands) and if I don't have an outlet for that creativity, I quickly get stressed. So for me coming home from work and escaping to the regency, is an excellent relaxation.
The other side of the coin is that when wearing my author's hat, I get inside people's heads and find out what makes them tick. Strangely, this is also a useful skill to have when dealing with distressed owners. If their pet is in pain, people react in a wide variety of ways from aggression to tears, and having an insight into what they are going through helps me to talk in a way they can understand.
MBA:  What made you decide to write during this historical romance during this era?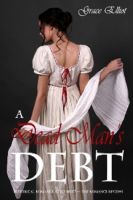 GRACE: Set around 1810, "Eulogy's Secret" and "A Dead Man's Debt" are regency, or more correctly, Georgian romances. The first full length fiction I ever wrote was set a little later in Victorian times, but something wasn't quite right, and it took a while for me to realise that the Regency era is naturally much more romantic. It was such an elegant age; women's fashion was so exquisite with those gorgeous empire line gowns, when men took pride in the cut of their jackets and tightness of their breeches. Added to that the men did a lot of riding so they had such awesome toned thighs…oops, did I say that out loud? So for me it's a no contest, the regency is my preferred route to escapism and romance.
MBA:  Is there a specific reason you wrote Eulogy's Secret (Book One in The Huntley Trilogy)?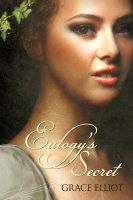 GRACE: I'm addicted to writing, I couldn't stop if I wanted to and I'm always on the look out for the inspiration for my next story. "Eulogy's Secret" came about when I glimpsed a poster on the London Underground. One word "Eulogy" caught my eye (the poster was for a memorial concert at the Royal Albert Hall) and it struck me what an enigmatic name Eulogy would make. A writer's mind works in mysterious ways and I started wondering what would lead a parent to call their child 'Eulogy' – perhaps the death of the mother in childbirth, or another, even more tragic circumstance….But to answer 'why' and find out what Eulogy's Secret is….you'll have to read the book!
MBA:  Can you give our readers any tidbits about your future project(s)?
GRACE: I'm hard at work at book two in The Huntley Trilogy (working title "Hope's Betrayal".) Each book in the trilogy features one of the three Huntley brothers and the hero in Hope's Betrayal is the dashing naval Captain, George Huntley. I know when the writing is going well when I dream about the characters – and even if I say so myself, Captain George Huntley is a humdinger of a man, whom I'm totally in love with. I can't wait to finish writing this book so that I can unleash Captain Huntley on the world and spread the infatuation. Hope's Betrayal is going to be an action packed historical romance with smuggling skulduggery, treachery and of course….a love that brings Huntley to his knees.
MBA:  After a long day of writing,working as a Vet,family and friends,what relaxes you and how do you which from Vet to writer?
GRACE: That's a great question because it's an excuse to talk about another great love of mine – cats! I adore them and nothing, but nothing, is as relaxing as settling down with a glass of red wine, a good book and a cat purring on your lap. I have five cats who all have favourite spots in the house, so I'm pretty much guaranteed some furry love no matter where I sit.
MBA: With the holidays approaching, tell our readers what some of your favorite memories of the holidays are for you?
GRACE: I live in the UK and get a little confused with talk of holidays – because for me that means the summer vacation, but I'm beginning to learn that in the US holidays means Christmas and New Year (Have I got that right?)
I most associate the Christmas holiday with crisp frosts, sparkling ground and air so sharp it hurts to breath. I remember one Christmas, my mum and I walking home from the midnight service at the dead of night, when a fox crossed the road ahead of us – it was as if we were the only living creatures abroad and a magical moment.
MBA:  Now, Grace tell our readers where to find you and where your books are available?
      GRACE: I'm an active blogger and my blog can be found at: http://graceelliot-author.blogspot.com
This is a blend of historical trivia, romance and of course…cats!
My website (to keep abreast of new releases) is here: www.wix.com/graceelliot/grace-elliot
I'd love you to follow me on twitter:@grace_elliot
Or email me at: Grace (dot) elliot (at) virginmedia (dot) com
The links to my books are here:
http://tinyurl.com/EulogysSecret-AmazonUS-GE
http://tinyurl.com/EulogysSecret-AmazonUK-GE
http://tinyurl.com/EulogysSecret-BN-GE
https://www.smashwords.com/books/view/97616
MBA:  Is there anything you wish your readers to know about you,your work or anything else?
GRACE: For any other cat fanatics out there, a quick alert that December 2011 I'm releasing a non-fiction book, "Cat Pies." This is a compilation of quirky articles about feline historical trivia – perfect for impressing friends with your trivia knowledge.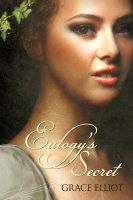 EULOGY'S SECRET
GRACE ELLIOT
ASIN: B005XD5IBA
Product Details
BN ID: 2940032823001
Publisher: Grace Elliot, via Smashwords
Publication date: 10/19/2011
Format: eBook
Product Description
Greed, prejudice and a stolen identity.
In the four weeks since her guardians' death, Eulogy Foster has lost everything. Penniless and alone she seeks the help of her estranged brother, Lord Lucien Devlin. But Devlin throws Eulogy onto the streets and the mercy of a passing stranger, Jack Huntley, who becomes an unlikely ally. As Eulogy seeks the truth behind her birth, she is drawn into the world of art and artists, where her morals are challenged and nothing is as it seems.
Jack Huntley: bitter, cynical and betrayed in love. He believes women are devious, scheming, untrustworthy creatures – and when he rescues a naïve Miss from being raped, his life is about to change forever. There is something about Miss Foster that haunts him and challenges his emotions. But despite their growing attraction, Eulogy will not share her secret, which means he cannot trust her. Caught in a deadlock, both denying their true feelings, events take a sinister turn as someone seeks to silence Eulogy…permanently.
EULOGY'S SECRET EXCERPT(PORTRAIT):
But before he left, there was one last thing he must do and the ache in his chest intensified. After taking a deep breath Huntley turned to face the portrait, leaning against the tallboy. Even though he had prepared himself, it still robbed him of breath, his dark eyes grew darker and a small vein pulsed at his temple. He could stare at the painting for hours, trying to armor his emotions, but each time it was the same eyes that pierced his soul, and with no more weapon than a stare, made him her prisoner.
He, or rather Chaucer, had come across the picture by chance. A few weeks earlier, to his amazement, rumors circulated in artistic circles that Tristan Farrell was painting again. Out of idle curiosity Huntley had dispatched his man toRed   Lyon Squareto investigate, only to have Chaucer return bright eyed and burbling on about a stunning portrait of a brown-eyed woman. It amused Huntley to instruct Chaucer to buy the painting, for an anonymous client of course, as an investment in the resurgence of a once great talent. But the moment Huntley saw the piece he knew he could not bear to part with it.
So here he stood, like a priest before an altar. Goosebumps raised on his arms as he gazed at the pale-skinned beauty with softly parted lips and enormous brown eyes, warm and alluring, staring out of the canvas as if taken by surprise. The swirling background of chocolate browns served to heighten the woman's natural beauty. The piece was unfinished and yet utter perfection. Only an artist of great foresight would stop when he had, capturing the moment when a great artist discovers his muse. Huntley's instincts had been correct. The model was Eulogy Foster, and the painting as divine as the woman it depicted.
Of course Chaucer was right; it made sound business sense to sign Farrell up to The Gallery before news of his work reached the ton. If the gallery manager was perplexed by the owner's sudden indecision, he knew better than to mention it. As if it was fate intervening, there soon appeared a hastily scribbled note from Farrell, offering The Gallery first refusal of his future work. Huntley laughed aloud as he read. Even when fighting infatuation, he wasn't such a fool as to decline an opportunity to make money.
Thank you Grace for taking the time out of your busy schedule to visit with us today…. 
***GIVEAWAY***
Thanks to Greace we are offering 1 lucky commenter a chance to win an e-book copy of "Eulogy's Secret" by Grace Elliot. Giveaway open globally and will run from today November until December 2,2011. Please leave your email address with your comment. Our way to contact the winner.
GOOD LUCK EVERYONE!
Another great read by Grace Elliott:
***Check out My Book Addiction Reviews in a few days for our thoughts on ' EULOGY'S SECRET" by Grace Elliot***