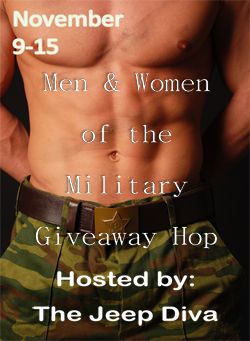 Powered by Linky Tools
Click here to enter your link and view this Linky Tools list…
We at MBA are honored and proud to take part in the Men & Women of the Military blog hop hosted by The Jeep Diva. If you click the image above it should take you to the list of other blogs taking part and offering great giveaways. If the image link doesn't work please visit: The Jeep Diva. (http://www.thejeepdiva.com/2012/04/men-women-of-the-military-giveaway-hop-sign-up.html)
I am honored to take part in this hop for various reasons! First and foremost I'm a firm believer in honoring our military men and women. They do so much for us that is never Thanked or even thought about. Those who long ago fought so that we might be free and those who fight today and all those in between. I was brought up to remember those who'd fought and those who'd died so that I might live free. My Grandfather fought in the Korean War, even though he was too young to fight at all. My Grandmother worked at a factory during the war, I have several great-uncles who fought in the military one in 'Nam. My step-dad was in the Navy, and my father-in-law was in the Army. I have several cousins who have fought in various branches of the military. And 1 cousin, who was more like a father to me, who just recently retired from the Air Force. He's fought in both Desert Storms and been stationed around the world, currently in Germany. I am so very proud of him and his service. He will never know how much of a hero I see him. And his family who has to deal with the stresses of military life daily.I pray daily for all our military men and women and the families and friends who love and miss them. They do so much for us, I hope they know that there are millions of us here at home, who remember them, and love them and will forever be thankful for all they do. It is with that in mind that I want to take a moment to mention the Wounded Warrior Project. This is a great project that I think we should all support. Check their website to see how you can offer your support. Thank you all those who service our great country!
Now for the fun stuff. In honor of this blog hop and Veteran's Day we at MBA are thrilled to offer our readers a chance to win 1 copy of 4 books. That's 4 winners, each getting 1 book. All books are ebooks. Giveaway is open to everywhere an ebook can be gifted. Now for the books we are offering.
First up is: BECAUSE OF YOU by Jessica Scott
BECAUSE OF YOU
A Coming Home Novel
November 14, 2011
Random House Loveswept
$2.99
ISBN: 978-0-345-53386-9
From the war-torn streets of Baghdad to the bittersweet comforts of the home front, two wounded hearts navigate the battlefield of coming home from war in this explosive eBook original from newcomer Jessica Scott.
Keeping his men alive is all that matters to Sergeant First Class Shane Garrison. But meeting Jen St. James the night before his latest deployment makes Shane wonder if there's more to life than war. He leaves for Iraq remembering a single kiss with a woman he'll never see again—until a near fatal attack lands him back at home and in her care.
Jen has survived her own brush with death and endured its scars. And yet there's a fire in Shane that makes Jen forget all about her past. He may be her patient, but when this warrior looks her in the eyes, she feels—for the first time in a long time—like a woman. Shane is too proud to ask for help, but for Jen, caring for him is more than a duty—it's a need. And as Jen guides Shane through the fires of healing, she finds something she never expected—her deepest desire.
*This will be an ebook only!*
Next up we are giving away 1 copy of SEAL OF MY DREAMS anthology.
All proceeds pledged to the Veterans Research Corporation a non-profit foundation supporting veterans medical research
SEAL of My Dreams is now available digitally at Amazon, Barnes & Noble, iTunes, and Sony, as well as in print from Amazon, Barnes & Noble, and Bell Bridge Books. Additional buy links coming soon.
Table of Contents
*Giveaway is for 1 ebook copy ONLY*
Next we will be giving away 1 copy, ebook only of FORGET ME NOT by Marliss Melton
Forget Me Not
Mass Market Paperback: 384 pages
Publisher: Warner Forever (December 1, 2004)
Language: English
ISBN: 0446614823
Synopsis
A hero's nightmare…..
Gabe Renault doesn't know why he was in a prison camp. He has no memory of the past three years or of the Navy SEAL mission that went wrong. Only two things kept him going, thoughts of his wife and the certainty that he must escape.
A sudden homecoming…..
After Gabe is presumed dead, Helen Renault pulls the tattered pieces of her and her daughter's lives back together. Married young and for all the wrong reasons, she's standing on her own two feet at last–and proud of it. Then comes the biggest shock of all–Gabe returns home. Gone is the distant, secretive husband he once was. This new Gabe is a man she could easily loose her heart to. But his memory is slowly returning, exposing a trail of government treachery…and jeopradizing his and Helen's second chance at love.
Forget Me Not…..What you don't remember can kill you.
*This is one of my favorite military romances of all time! This is for an ebook only copy!*
And next we have 1 ebook copy only of CODE OF HONOR by Catherine Mann
Special Operations
Catherine Mann
Date Published: 8/2005
Publisher: HQN
One Last Chance
Air Force captain Joe Greco had stood silently by when photojournalist Brigid Wheeler fell for his best friend, and he lent her comfort when Cooper was killed. Now he was forced to play protector as they embarked on the most dangerous mission in their lives.
One Last Chance
The cover operation was a chance for Brigid to avenge Cooper's death, and nothing would stop her from following Joe into the jungle. Though the grief they shared had brought them close, they'd never crossed the line. Until now.
One Last Betrayal
In the heat of danger Joe and Brigid finally surrendered to the explosive passion that burned between them. Then they discovered a shattering truth: Cooper was alive…and the ultimate betrayal was still to come…
*Again this is an ebook only copy. And yes this is another favorite read of mine.*
*Now I'd orginally decided on giving 4 ebooks away but I couldn't stop at 4 so we'll also giveaway a ebook copy of Lindsay McKenna's THE DEFENDER. This is a new release that comes November 13th, so it'll be gifted as soon as I can. I LOVE McKenna's writing.*
THE DEFENDER
Book Description
Publication Date: November 13, 2012
After escaping her troubled past, all Katie Bergstrom wants is to put down roots on her raptor rehabilitation facility outside Jackson Hole. She doesn't count on reconnecting with her estranged birth mother—or the recent appearance of a sexy ranch hand.
Former marine Joe Gannon is used to a life of risk. Working on the ranch, life is simpler…except for the undercover work he's been asked to do. Getting too close to Katie could damage his current operation. Yet despite his orders to remain suspicious, he knows she's innocent—and in danger. As he does everything he can to protect her, Katie can't help but fall for him. But after a lifetime of betrayal, is this too-secretive, too-seductive rancher someone she can trust?
*This is an eBook only giveaway!*
So now it's time for the Giveaway details. So you ask how do I win one of these great eBooks? Well it's easy tell me what you love most about military romances or share a story about someone you know/love who's in the military. Basically help me celebrate the great service. That's it. Comment here and you are entered to win.  Keep in mind there will be 5 winners. 1 for each EBOOK. So be sure to understand that this giveaway is for EBOOKS only. Giveaway is open to anywhere I can gift an ebook. Giveaway runs from today November 9th until November 16th at 8am. I will pick the winners sometime on the 16th and announce the winners here. I will NOT hunt you down. If you want to know if you won, return here. I'll give all winners 72hrs to contact me then if I don't hear from them I'll pick new winners. So be sure to check back. I hope you'll take the time to visit the other blogs and enter their great giveaways during this blog hop. And thanks to Vanessa at THE JEEP DIVA for hosting this blog hop! Thanks for stopping by and commenting and thanks again to all those who service in ALL branches of the military; COAST GUARD, NAVY, ARMY, AIR FORCE, and the MARINES. Thanks to their families, loved ones and friends for their sacrifices as well. GOD BLESS AMERICA.
Powered by Linky Tools
Click here to enter your link and view this Linky Tools list…