MBA&M FEATURE AND REVIEW….
CHARLE'S GIRL
Meet the Author:
Mary-Helen Foxx retired in 2009 after a long career in public education with the Peoria Unified School District where she worked primarily in library services and IT. She has written widely on genealogical topics and has authored four books on the histories of prominent Southern families. Mary-Helen was also a contributing editor for three years with "Georgia Genealogical Magazine" and has won awards for her writing.
Daniel is Professor Emeritus of History at Ottawa University in Phoenix and has been published in various academic and historical journals. He is the author ofI Only Laugh When It Hurts (Reissued by Pelican Publishing Company, Gretna, LA, 2009). His latest book, Nathan Bedford Forrest: In Search of the Enigmawith Eddy W. Davison (Pelican, 2007) was a National Book Awards nominee, received the 2008 Arizona Book Award for biography, and was finalist for the 2008 Independent Book Publishers Association Benjamin Franklin Award.
***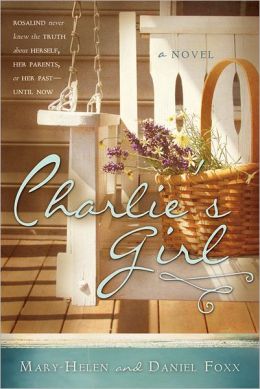 CHARLE'S GIRL
MARY-HELEN AND DANIEL FOXX
Paperback: 200 pages
Publisher: Cedar Fort, Inc. (May 8, 2012)
Language: English
ISBN-10: 1599559684
ISBN-13: 978-1599559681
Book Description:
Fourteen-year-old Rosalind has always been a foster girl without a past, until she's sent to live with a long-lost grandmother in a house full of memories—and secrets. Soon Rosalind discovers that there's more to her family history than she ever dreamed. Set in 1960s South Carolina, this unforgettable story of family, friendship, and faith is perfect for readers of all ages.

AVAILABLE:
***
MY THOUGHTS:
CHARLIE'S GIRL by Mary-Helen and Daniel Foxx is an inspirational fiction set in the 1960's, South Carolina. Follow young Rosalind,an orphan, on an emotional and thought provoking journey of discovery,family secrets,memories,foster care system,loss,family,friends and faith. Rosalind,Grace,Rosalind's grandmother,Mark William,Hank and Emily will find many surprises,along their journey. I found "Charlie's Girl" to be well written,the characters engaging,and the plot interesting. If you enjoy small towns,finding joy in life again,faith,hope and love you will enjoy this title. BEWARE: it does have  a cliff  hanger,but that does not take again from this story,it only makes you want the next installment to happen faster. A very compelling and emotional read. Well worth the time. Received for an honest review from the author/publicist.
RATING: 4
HEAT RATING: SWEET
REVIEWED BY: AprilR, My Book Addiction and More/My Book Addiction Reviews
***
We hope you have enjoyed our feature and review of "Charlie's Girl" by Mary-Helen and Daniel Foxx and will spread the word.
***