MBA&M PRESENTS AND TANDEM LITERARY PRESENTS….
AUTHOR, EMILY WINSLOW
"TO START OF EVERYTHING"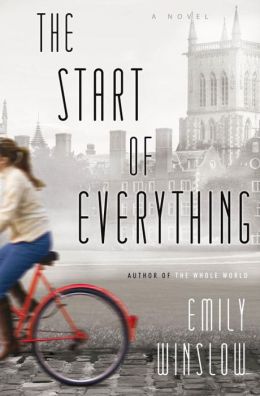 MBA&M : Emily, please tell the readers who may not know you a little about yourself?EW: I'm an American living in England. Cambridge is an amazing city with more than 800 years of history, history which is very present in the buildings and University traditions. I homeschool my kids here, and it is inspiring.
MBA&M: What was your inspiration behind writing "The Start of Everything"?EW: 
Coming to grips with my new home prompted me to start writing my previous novel, The Whole World, and that impulse continues in The Start of Everything. Cambridge is very different from anyplace I've ever lived, and continues to surprise me. It's like a character to me.
MBA&M: What made you want to write a psychothriller/suspense genre?
EW:  I love the way that mysteries set up something that seems unresolvable, like a locked-room mystery or a fatal action that seems fundamentally out of character, and through the course of the story forces a shift of perspective that makes it all make sense. It's as satisfying as the resolution of a chord at the end of a complex piece of music.
MBA&M: Who was your favorite character and why?
EW:  Morris. He's the police detective in my debut novel, The Whole World, and it's not giving too much away to say that he ends that book with an injury. The Start of Everything picks up his story from his return to work after medical leave, and he can no longer bend the fingers on his right hand. He struggles to function in his role, and deeply fears letting people down. He's right to be afraid of this.
MBA&M : Who was your favorite secondary character,why and will they ever have a story of their own?
EM:  Both The Whole World and The Start of Everything are told by multiple narrators, so the secondary characters do, in a sense, get stories of their own. My favorite in The Start of Everything is Mathilde, who seems to be autistic (though that is never explicitly defined). I based her on an exaggeration of my own introversion.
MBA&M: Will "The Start of Everything" be a series? If not what's next?
EW:  It is part of a series. It continues on from The Whole World, and will be continued in the next book, though they all can stand alone too.
MBA&M: If you could have dinner with any character, past, present, or future, from from anywhere or anyone, real or fiction, who would it be and why?
EW:  I wouldn't be able to resist wanting to meet one of my own characters. I would like to comfort Morris. Also, I think he would make me laugh!
MBA&M: What is your favorite time of day, year, and time, and what motivates you the most when you write?
EW:  I love winter, with early dark and late sunrises. I love how cozy darkness feels. Bright sunshine makes me feel too exposed.
Q: Emily, please tell our readers how to connect with you and where they may purchase "The Start of Everything"?
The Start of Everything can be purchased from many wonderful places, including bookstores! Bookstores need our support, so I recommend an in-person purchase whenever possible.
For those who would prefer an easy click, here are some Amazon links:
_____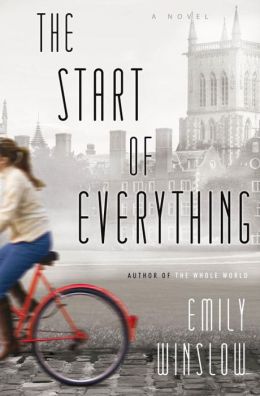 Hardcover: 272 pages
Publisher: Delacorte Press (January 8, 2013)
Language: English
ISBN-10: 038534290X
ISBN-13: 978-0385342902
ABOUT THE BOOK:
The Start of Everything opens with the body of a teenage girl found floating in flood waters near Cambridge, England. Detective Inspector Chloe Frohmann and her partner, Morris Keene, must work quickly to identify the victim before the press takes off with the salacious story. Across the hallowed paths and storied squares of Cambridge University, the detectives follow scant clues toward the identity of the dead girl. Eventually, their search leads them to Deeping House, an imposing country manor where, over the course of one Christmas holiday, three families, two nannies, and one young writer were snowed in together. Detective Frohmann begins to unravel a tangled web of passions and secrets, of long-buried crimes and freshly committed horrors. But in order to reveal the truth-about misaddressed letters, a devastating affair, and a murdered teenager-she may have to betray her partner.
Buy The Start of Everything as an EBOOK in the USA:

Buy The Whole World as an EBOOK in the USA:

Buy The Start of Everything as an AUDIO BOOK in the USA:

______________________
ABOUT THE AUTHOR
Emily Winslow lives in Cambridge, the 800-year-old University town that inspired her first novel, The Whole World. She originally trained as an actress at Carnegie Mellon University's elite conservatory, researched the display of Egyptian artifacts in graduate school, and for years designed puzzles for a national magazine. All of those experiences, inhabiting roles, curating curiosities, and designing tricky, satisfying puzzles, shine through in her books.
___________________
COMING SOON !
~~Check back later for "Our Thoughts" on this title~~
___________________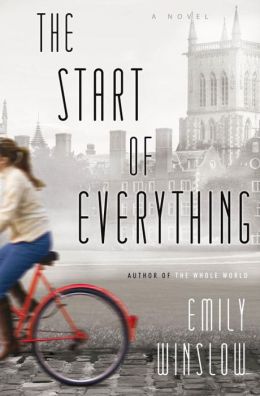 GIVEAWAY ALERT!
(Sponsored by the publisher)
Thanks to Meg, we are offering 1 print copy of  "The Start of Everything" to one lucky commenter. Sorry, U.S. residents,and no P.O. Boxes,please. Giveaway will run from today March 6 until March 13,2013.
*You MUST leave a valid email address in your comment,for notification only to winner*
EVERYONE GOOD LUCK AND HAPPY READING!