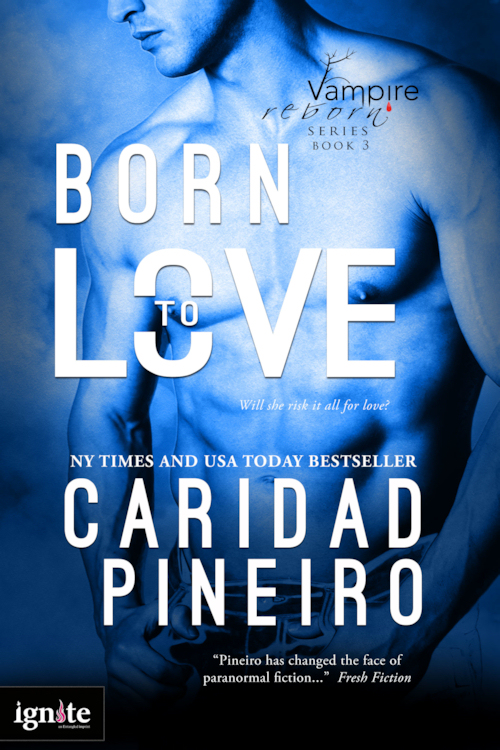 *From the author's website*
BORN TO LOVE
by Caridad Pineiro
November 2013
Entangled Ignite
ISBN 9781622663705
Fated to survive…
FBI agent David Harris's life nearly came to an end during a botched raid. Though he survived, his body and spirit were broken by the perilous underworld he believes his estranged partner, Diana Reyes, has embraced with her Vampire husband. Now, left to a life in a wheelchair, David is angry, distrustful, and withdrawn…
Meant to love…
Seeing her former lover, David, again rekindles feelings long forgotten for Maggie Gonzalez. But she's been thrown into a terrifying future as a werewolf, threatening to destroy what they might have again.
Destined to die…
Diana Reyes has lived on the edge since her blood contamination by Vampire Ryder Latimer. Her unexpected pregnancy is putting a huge strain on her body, but she'll do anything to help right the wrongs of the past and help her former partner find happiness…even if it's in the arms of a werewolf.
Order
Amazon
B&N
————–
A bit about the author…..
New York Times and USA Today bestselling author and RITA® Finalist Caridad Pineiro wrote her first novel in the fifth grade when her teacher assigned a project – to write a book for a class lending library. Bitten by the writing bug, Caridad continued with her passion for the written word and in 1999, Caridad's first novel was released. Over a decade later, Caridad is the author of nearly forty published novels and novellas. When not writing, Caridad is an attorney, wife, and mother to an aspiring writer and fashionista.
For more information, please visit www.caridad.com.
CONNECT & SOCIALIZE!!
——————-
MY THOUGHTS:
BORN TO SERVE by Caridad Pineiro is another exciting Paranormal Romance/Romantic Supense. "The Reborn series" #3, "The Calling" #11,but can be read as a stand alone. "Born to Serve" follows FBI agent David Harris, his former lover Maggie Gonzalez and Diana Reyes as they come to term with deception, secrets, danger, and righting past wrongs. With vampires, werewolves, and passion how can you go wrong with one of Ms. Pineiro's stories. She writes with passion and a true sense of right and wrong, oh, and yes she absolutely knows her romance, be it paranormal or suspense, she brings them together in a powerful story of love,sacrifice, and suspense. Another must read by this author. Emotional, intriguing and suspenseful! Received for an honest review from the publisher and/or author.
RATING: 4.5
HEAT RATING: HOT
REVIEWED BY: AprilR, courtesy of My Book Addiction and More