Please help us welcome today's guest…
KATIE GANSHERT
{A BROKEN KIND OF BEAUTIFUL}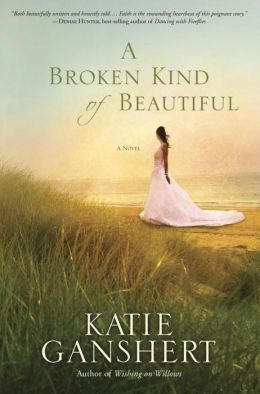 Welcome, Katie, and congratulations on your latest release!!
MBA&M: In A BROKEN KIND OF BEAUTIFUL, why make your heroine, a model?
I wanted to write a story that explored the concept of beauty and worth and I thought, "What better way to do that than by giving my heroine a profession in the beauty industry?" So often we see these models on the covers of magazines and in catalogs and we forget they are real people, with flaws and hang ups and hurts. Is it possible that the women we often compare ourselves to feel every bit as insecure as we so often feel?
MBA&M: What was the inspiration behind the writing of this story?
Several different things inspired me to write this novel, one of which was my work with junior high students over the last several years. I see what society is shoving in the faces of our young women. So much of the "beauty" they see is unattainable. So much is smoke and mirrors. I wanted to write a story that peeled back that veneer and gave women a peek at what's underneath the glitz and glam.
MBA&M: What do you feel your greatest accomplishment in your writing career, so far, is and why?
Oh, that's a tough one! I could say being a Christy Award finalist or a Carol Award winner, both of which were huge honors in the genre I write. But I think at the end of the day, my greatest accomplishment is every single time I hear from readers that my books have encouraged or changed them in some positive way. There is nothing quite like that!
MBA&M: Please tell our readers, a few funny stories, while, attending book signings, either for yourself or another author?
Is it lame that I can't think of anything specifically? I'm super thankful to have had some really fun local book signings. I love meeting new readers and hugging old readers and handing out Oreo truffles (I've made these now for every local book signing I've done). For my first novel, my publisher scheduled a book signing for me up in Minneapolis and while nothing funny happened at the book signing, my husband and I sure laughed a lot on the drive north. I don't even remember what we were laughing at. I just remember that it was the kind of laughter that had tears rolling down our cheeks and our stomachs hurting! That's the best kind, isn't it?
MBA&M: Who do you feel, is your greatest influence in your writing career?
Hmmm…that's a great question! Karen Kingsbury and Francine Rivers are both two authors I read early on that inspired me to write inspirational fiction. Dwight Swain wrote a book called Techniques of the Selling Writer that had a huge influence on the way I craft stories. Then there are the people I know in real life—like my husband. He inspires and influences me every day! I'm pretty sure every hunky hero I write is in some way inspired by him. 
Thank you, for stopping by today! We at MBA&M wish you many more successful releases and look forward to your next exciting adventure!
---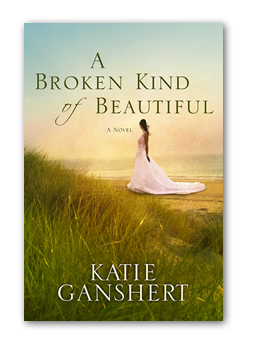 About A Broken Kind of Beautiful (from the publisher)
A Broken Kind of Beautiful (WaterBrook Press, April 15, 2014) by Katie Ganshert, tells the story of model Ivy Clark. In an attempt to save her career, she heads to her quaint island hometown of Greenbrier at the request of her stepmother Marilyn, even though Ivy's very existence is a reminder of her father's infidelity to Marilyn. On top of that, Ivy's career rests in the hands of mysterious Davis Knight- a man who abandoned a promising photography career in New York City, a man who treats her differently than any man Ivy's ever known. Davis calls into question everything Ivy has come to believe about beauty and worth, leaving her wondering if it's possible that God sees her- a woman stained and broken by the world- and wants her still?
Paperback: 320 pages
Publisher: WaterBrook Press (April 15, 2014)
Language: English
ISBN-10: 1601425902
ISBN-13: 978-1601425904
Purchase your copy!
Amazon
Barnes & Noble
Books a Million
ChristianBook.com
IndieBound
LifeWay Christian Store
Mardel
Parable Christian Stores
Powell's Books
Random House
---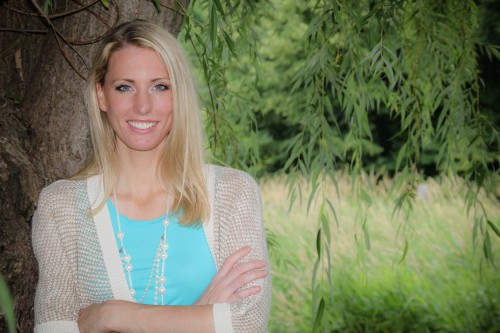 About Katie Ganshert…
Christy Award finalist and Carol Award winner, Katie Ganshert, graduated from the University of Wisconsin in Madison with a degree in education, and worked as a fifth grade teacher for several years before staying home to write full-time. She was born and raised in the Midwest, where she lives with her husband, their young son, and their goofy black lab, Bubba. When she's not busy writing or playing or reading or snuggling, she is obsessing over the paperwork and the waiting that comes with adoption. You can learn more about Katie and her books by visiting her website or author Facebook page.

CONNECT & SOCIALIZE!
Website: katieganshert.com
Twitter: @KatieGanshert
---
~GIVEAWAY ALERT~
(Sponsored by the publisher)
*Prize to be mailed directly to the winner from the publisher*
Thanks to Lynette, we are offering 1 lucky commenter a print copy of A Broken Kind of Beautiful by Katie Ganshert. Sorry, open to U.S. residents only! Please, no P.O. Boxes!
Giveaway open from July 14 until July 18, 2014. Winner to be announced though this blog site.
*You MUST re-visit the site to see the winner, than you have 48 hours to contact AprilR, at tarenn98@yahoo.com* We are NOT responsible for lost or stolen prizes!
GOOD LUCK!
---
For "My Thoughts" please visit our sister site at:
http://mybookaddictionreviews.com/2014/07/09/review-a-broken-kind-of-beautiful-by-kaite-ganshert/
Thanks for joining us and our guest today!