ISBN: 9780062317179
May 24, 2016
Print Length: 592 pages
Publisher: Avon Impulse (May 24, 2016)
Publication Date: May 24, 2016
Sold by: HarperCollins Publishers
Language: English
ASIN: B00G2ANEFU
This is a book no Eloisa James fan should miss! Eloisa revisits the scintillating world of the Essex Sisters with "A Midsummer Night's Disgrace," a new story featuring a young lady, Cece, who would rather ruin her own reputation than endure further speculation about whether her children will be "silly," like her brother, Billy.
Happily for fans of Pleasure for Pleasure, Cece's best friend is Josie, Countess of Mayne!
Just as exciting, the Companion includes not only Eloisa's original notes about each book in the Essex Sister series and her Extra Chapters, but a 140-page alternate ending to Kiss Me, Annabel. Eloisa discarded this shockingly different plot after writing one draft, and the published novel went in an entirely new direction. Make up your own mind about which is better—Eloisa's original, or the final book!
Super fan Jody Gayle's engaging guide includes essays about fascinating historical details, including period fashion designs. Explore the world of horse racing and tour the London theater scene. Delve into the rich history and deep literary tradition that makes Eloisa one of the top writers of historical romance.
Buy Links:
Essex Sisters Companion Guide

is part of the Essex Sisters series.

The full series reading order is as follows:
---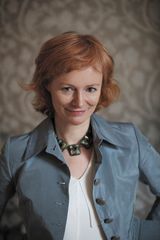 Meet Eloisa James….
Eloisa James is a USA Today and New York Times bestselling author and professor of English literature, who lives with her family in New York, but can sometimes be found in Paris or Italy. She is the mother of two and, in a particularly delicious irony for a romance writer, is married to a genuine Italian knight. Visit her at www.eloisajames.com.
CONNECT & SOCIALIZE!
Website:
Facebook:
http://www.facebook.com/EloisaJamesFans
Twitter:
http://twitter.com/eloisajames
Tumblr:
http://eloisajames.tumblr.com/
Pinterest:
http://pinterest.com/eloisajames/
****
About the Author
JODY GAYLE, bestselling author and researcher, likens her work to that of a literary archaeologist rather than a traditional author. She is dedicated to unearthing publications of the past, and sharing these long-forgotten books… the jewels and riches of the written word. She has uncovered tens of thousands of old publications from the eighteenth and nineteenth centuries and wants to bring them to life, and send her readers traveling back in time.
CONNECT & SOCIALIZE!
Website:
Facebook:
https://www.facebook.com/jodygaylespage
---
MY THOUGHTS:
What an interesting "Companion Guide  to the Essex Sisters" series.  It rich with essays, resources, articles, a character index, bonus chapters, an alternate ending, and so much more. There is so much here for readers to explore. It includes fashion, alternate endings, extra chapters, a novella,  "A Midsummer Night's Disgrace". What a delicious insight into the Essex Sisters series.  A must read for fans of the Essex Sisters series.
Rating: 4.5
Heat rating: N/A
Reviewed by: AprilR, courtesy of My Book Addiction and More