IN YOUR CORNER
{Redemption #2}
SARAH CASTILE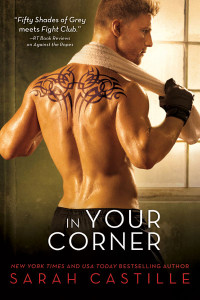 Sourcebooks Casablanca (July 1, 2014)
ISBN-10: 1402296231
ISBN-13: 9781402296239
Order Paperback: Amazon US | Amazon UK | Barnes & Noble
Book Depository | Books-A-Million | IndieBound
"You have to go. I won't be able to control myself. I've wanted you so bad for so long and after I've been in the cage…I can't think straight." He gives a guttural groan and his fist clenches on my hip.
Primitive. Primal. His need speaks to me. I tighten my grip on his neck and rock up to kiss him. He takes over. His kiss is hard and demanding.
"Mine." His voice is raw, savage and for a moment I truly believe he may lose control.
He rules in the ring
Two years ago, Jake and Amanda were going hot and heavy. But when Jake wanted more, Amanda walked away. Jake immersed himself in mixed martial arts, living life on the edge. But that didn't dull the pain of Amanda's rejection-until a chance encounter throws them together.
A high-powered lawyer, Amanda was a no-strings-attached kind of girl. But two years after her breakup with Jake, she still hasn't found anyone who gets her heart pumping the way he did. And then he shows up in her boardroom, hot as sin and needing help…
But can he rule her heart?
Jake is darker, sexier, and impossible to resist. As their chemistry builds, Amanda's not sure if she can stay in control, or if she's finally willing to let him claim her body and soul.
Excerpt
But he has. The once rough-and-tumble fighter and carpenter is now chairman of a midsize company. New furrows mark his once–smooth brow, and crinkles adorn the corners of his eyes. His shoulders are tight, his back stiff and straight. There is no hint of the easy, carefree attitude that attracted me to a cheeky kickboxing instructor at a local gym so long ago—-an attraction so strong we wound up making out in the fitness studio only seconds after the last student had walked out the door. He seems older both in appearance and at heart. But the same restlessness simmers beneath his skin. Power. Barely contained.
His mouth thins, and I wish I could take the words back. Amanda-now isn't the same as Amanda-then. Now, I could never hurt him.
"If I'd remembered you worked here, I would have picked another firm," he says, his voice tight. "One of the division presidents recommended the partner I was supposed to meet."
Swallowing hard, I shrug, playing it nonchalant while inside the part of me that had always dreamed we would get back together again shrivels. "We never really talked that much about work. I don't think you ever came by my office." I give a tentative smile. "You'll probably get to know me better during this case than…"
His choked grunt cuts me off, and I catch a flicker of pain in his eyes. "I don't think…"
Oh God. He doesn't want me on the case. And why would he? How difficult would that be? It could be years until trial.
My stomach clenches and I force my words out through a tightened throat. "Of course. I wasn't thinking. I probably shouldn't be involved in the case because we were…had…" I take a deep breath and steady my wavering voice. "It could be considered a personal conflict, because if you were unhappy with our service at the end of the case, you might allege I wasn't able to properly represent you because we…we…"
"Broke up," he says gently and, from the softening of his brow, clearly relieved.
"Yes."
Tension eases from his body, loosening his shoulders. "I think that's for the best."
My heart sinks to the floor and then falls through the fifteen stories that is Farnsworth & Tillman, shattering into a million pieces in the concrete parking garage. Rejected. All over again.
Years of training enable me to remain professional, while inside I crumble. "I'll have to ask the managing partner to take me off the case and find a replacement associate. It means you'll have to come back another day. Is that a problem? I feel bad inconveniencing you."
Jake shakes his head and his beautiful hair brushes over his neck. "No, that's okay. I got the papers a week or two ago, so I think I have some time. I don't understand the legal stuff."
Falling back into my comfort zone, my heart rate slows. "I'll take a look at the documents for you, just so you don't miss any deadlines."
He opens the backpack resting in a chair beside his leather jacket and hands me a file folder. His finger inadvertently brushes over mine during the exchange, sending zings of electricity straight to my core. Nothing has changed.
---
About Sarah Castile…
New York Times and USA Today bestselling author, Sarah Castille, writes contemporary erotic romance and romantic suspense featuring blazingly hot alpha males and the women who tame them. A recovering lawyer and caffeine addict, she worked and travelled abroad before trading in her briefcase and stilettos for a handful of magic beans and a home in shadow of the Rocky Mountains.
Sarah loves to connect with readers. Sign up for her newsletter to hear about new releases: http://bit.ly/LgFZlb
Find her at:
Website: http://www.sarahcastille.com
Facebook: http://www.facebook.com/sarahcastilleauthor
Twitter: http://www.twitter.com/sarah_castille
Goodreads: http://www.goodreads.com/author/show/6920675.Sarah_Castille
Pinterest: http://www.pinterest.com/scastilleauthor
---
~GIVEAWAY~
Up for grabs: A Redemption Gift Gym basket
---
---
Tour Schedule!