KAREN HARPER
~BROKEN BONDS~
Welcome, Karen!!
I imagine most writers were great readers first.  I can recall my mother reading to me when I was very young.  In those days, it was common for an elementary teacher who had a child to take a leave of absence.  I was, no doubt, my frustrated mother's only remaining elementary pupil, but I was the beneficiary of that.  My father was a great reader too, especially of Charles Dickens' novels.  I still have his lovely, leather-bound set of those today. 
I knew both of my grandmothers well, and they were great story tellers about their pasts—and big readers.  I set out to be an English teacher (I did teach high school for 15 years and college for two) but no wonder I ended up as a full-time writer.  If loving books wasn't in my genes, it was in my family tree.
My parents never could have afforded all the books I read growing up, so I was blessed to have a public library near my home in Toledo, Ohio.  I had excellent teachers who urged me to write and praised my work when I did.  All you parents, grandparents, teachers and librarians out there, keep up the good work, encouraging your "kids" to read and write.  I read everything from Nancy Drew books (they used to cost $1.09!) to adult novels to history books—and it has all somehow come out in my "writer wash."
My husband and I were on a trip to England once—for a while, we went to Europe every summer—when I got an idea for a historical novel.  I wrote it, and it's now collecting dust under my bed, but I wrote a second novel, then a third—and, the third time's the charm.  I sold books #3 and #2 in that order.  Both were historicals, but I later added writing contemporary romantic suspense, which I've always loved to read, though these are a far cry from Nancy Drew books!
I used to tell my students that the only way to learn to write was to write, and I've found that's true.  That is, if you add reading along with it.  I read now for pleasure (I binge read between writing books) but I also read, of course, for research.  Not research on how to write, but on multiple subjects that will provide my characters' careers, settings—and the crimes that come their way and they need to solve. 
My historical novels (I just finished a book set in late-Victorian and Edwardian times) of course, take lots of research.  But so do my romantic suspense books set in the here and now.  For example, for BROKEN BONDS, book #3 in my COLD CREEK SERIES, I studied up on Appalachia, coal mines, fracking, social work and the Navajo nation.
OK, I admit Appalachia and Navajo land was pretty easy, since I have visited both places, but my writing is always dependent on my reading.  Even if I can visit my settings, I usually still need background research to make a place come alive—become a character in its own right.
Although I've always lived in large cities, I love to set my romantic suspense novels in small towns or rural areas.  I know the edge of Appalachia and have found the area to be perfect for setting scary scenes in the COLD CREEK trilogy:  an old farmhouse surrounded by a corn field, a defunct coal mine, an abandoned insane asylum and places in the hills where cell phones don't work.  Yes, the dead cell phone has happened to me there but not being trapped in the insane asylum–yet!   
I sometimes think of this kind of unique-place writing as "setting as character."  The area itself takes on a personality and may be welcoming or threatening at times.  Think of the Titanic, which begins as a luxury refuge, a huge party, a great adventure—then the ship becomes a killer, like many a villain.  Or for an example of another successful setting as character, think of Tara in GONE WITH THE WIND, the love of Scarlett's life, even more than Rhett was.  (What was wrong with that woman?  Rhett was fabulous on the page and in the movie!)
So I'm pleased to be able to share a bit about my writing and researching life for a site called My Book Addition and More.  If it weren't for my reading addiction from an early age, I doubt if I'd be more than an avid reader—and here I get to do both.  To be around books all the time one way or the other—hm, wonder if I've died and gone to heaven?
***
Karen Harper is the NYTimes bestselling author of contemporary romance and historical novels.  SHATTERED SECRETS, book #1 in THE COLD CREEK TRILOGY, has been selected as one of Suspense Magazine's Best of 2014 books.  Winner of the Mary Higgins Clark Award for DARK ANGEL, Karen's most current books are SHATTERED SECRETS (Sept.), FORBIDDEN GROUND (Nov.) and BROKEN BONDS (Jan.)  Visit her website www.KarenHarperAuthor.com and her facebook page www.facebook.com/KarenHarperAuthor
—
Broken Bonds Blog Tour
About the Author
A New York Times and USA Today bestselling author, Karen Harper is a former college English instructor (The Ohio State University) and high school literature and writing teacher. A lifelong Ohioan, Karen and her husband Don divide their time between the midwest and the southeast, both locations she has used in her books. Besides her American settings, Karen loves the British Isles, where her Scottish and English roots run deep, and where she has set many of her historical Tudor-era mysteries and her historical novels about real and dynamic British women. Karen's books have been published in many foreign languages and she won the Mary Higgins Clark Award for 2005. Karen has given numerous talks to readers and writers across the county.
Her latest book is the romantic suspense, Broken Bonds, the third book in the Cold Creek Trilogy.
For More Information
---
---
About the Book:
Three very different sisters…
Three desirable, dangerous men…
Three endangered lives…
THE COLD CREEK TRILOGY is set in Appalachia in a small town where the enemy is us.
Haunted by the past…
Cold Creek is a place with a dark history, especially for the Lockwoods. Now adults, the three Lockwood sisters are still recovering from the events that led to the destruction of their family when they were children. Determined to move forward, Tess and Kate are making fresh starts, ready to put bad—even deadly—memories to rest and settle happily in the small but booming town. And they're hoping their older sister, Charlene, can do the same.
Char is back in town seeking comfort as she figures out her next move. A social worker used to difficult situations, she soon runs afoul of some locals who think she's sticking her nose where it doesn't belong. She's certain something sinister is being covered up, and when she witnesses Matt Rowan being run off the road, she knows she's right.
Working together, Matt and Char figure uncovering the truth will be dangerous, but living in Cold Creek won't be safe for any of them until its secrets are revealed.
For More Information
Other books in the trilogy include: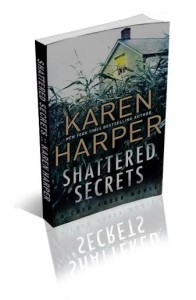 Shattered Secrets:
"Harper, a master of suspense, keeps readers guessing about crime and love until the very end." –Booklist, starred review on Fall from Pride.
ISBN-13: 9780778316473
Publisher: Harlequin
Imprint: MIRA
Publication date: 8/26/2014
Series: Cold Creek Series , #1
Format: Mass Market Paperback
Pages: 400
Sales links:
Amazon: http://www.amazon.com/Shattered-Secrets-Karen-Harper/dp/0778316475/
Barnes and Noble: http://www.barnesandnoble.com/w/shattered-secrets-karen-harper/1117716201?ean=9780778316473
IndieBound: http://www.indiebound.org/book/9780778316473
Goodreads: http://www.goodreads.com/book/show/19486810-shattered-secrets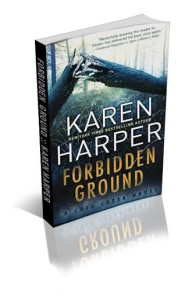 Forbidden Ground:
"Masterfully drawing the reader in, Harper has delivered the best, once again." –Suspense Magazine on Upon a Winter's Night.
ISBN-13: 9780778316701
Publisher: Harlequin
Imprint: MIRA
Publication date: 10/28/2014
Series: Cold Creek Series , #2
Format: Mass Market Paperback
Pages: 352
Sales links:
Barnes and Noble: http://www.barnesandnoble.com/w/forbidden-ground-karen-harper/1118656156?ean=9780778316701
Amazon: http://www.amazon.com/Forbidden-Ground-Karen-Harper/dp/077831670X/
IndieBound: http://www.indiebound.org/book/9780778316701
Goodreads: http://www.goodreads.com/book/show/20821543-forbidden-ground?from_search=true
Three very different sisters…
         Three desirable, dangerous men…
          Three endangered lives…
THE COLD CREEK TRILOGY is set in Appalachia in a small town where the enemy is us
---
---
Excerpt # 2
Matt grabbed her—almost tackled her—and rolled them off the low concrete single step into the wet leaves. He pulled her around the corner of the cabin, where they huddled, kneeling with her pressed between him and the outside wall.
"I—I can't believe that," she whispered. "We could have—could have been hit."
"And I'm the common denominator. Either someone's been following me, looking for another chance at me, or someone's staked out your place, knowing we're together."
They were whispering in each other's ears. "The headlights made us the perfect target," she said. "If we hadn't stepped apart…the arrow came head high, not chest level."
"Either way it could have killed one or both of us."
She was not only scared but furious. Someone had ruined her new place, ruined this beautiful night.
"Stay here," he said. "I'm going to get to the car, turn it around so the headlights shine into the trees where the arrow must have come from. It's sticking in the wood at an upward angle—like it was shot from the sky. Probably just arced up, then hit."
"Should we call Gabe?"
"Not unless we spot someone. My bet is we'll find no one out there. And it's late. Let's give him a break and call him in the morning. Tonight you can go down to stay in one of the guest rooms at the lodge where—"
"It's my first night here! I'm not running, even if some stupid hunter or even worse wants to scare me off."
"Char, just for the night!"
"I'm not going to leave. I'm going to get that arrow for evidence, tape up the hole and lock my doors."
"Then I'm staying, too."
"What?"
"I'll sleep on the couch, just in case."
"And if it's you the shooter's after? That could have been the second attempt on your life."
---
---
---
 ~GIVEAWAY~
Karen Harris is giving away 10 sets of the Cold Creek Trilogy!
FOLLOW THE BLOG TOUR:
Pump Up Your Book Presents Broken Bonds Virtual Book Publicity Tour
Presented by: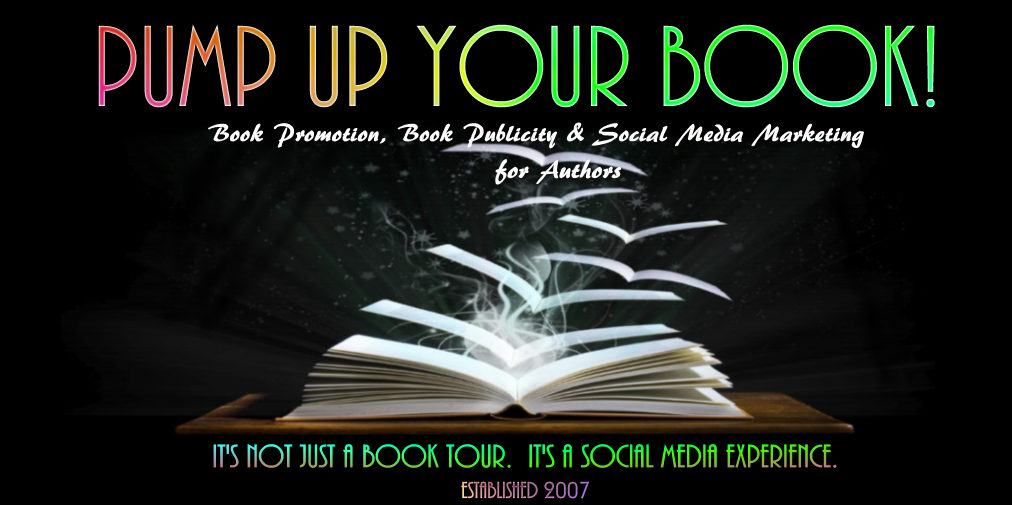 ---
---
MY THOUGHTS:
BROKEN BONDS by Karen Harper is an exciting Romantic Suspense set in a small town in Appalachia. #3 in "The Cold Creek" Trilogy, about three sisters, the Lockwood Sisters, and their dangerous men. See, "Shattered Secrets", and "Forbidden Ground". While, this story is a stand alone, I would recommend the other two in this series first and in order.  Each book centers on one of the sisters, Tess, Kate, and now the third sister, Charlene. The storyline is about Hydraulic fracturing, or "fracking", which is the process of drilling and injecting fluid into the ground at a high pressure in order to fracture shale rocks to release natural gas inside. A  controversial issue, in today's world and one in which Ms. Harper has driven into full force. This is a story which is very intense, both emotionally and personally to the characters and readers as well.
Well written with engaging characters who are realistic and enduring. The storyline is very realistic, filled with dark secrets, mystery, suspense and romance. While, this book was a bit slow at times, I would recommend it to mystery and suspense readers, it does pick up quickly. Well worth the time to read. But, I would highly recommend reading the other two in this Romantic Suspense prior to reading this one to get some background on the sisters. Overall an enjoyable and satisfying read!
*Received for an honest review*
Rating: 4
Heat rating: Mild
Reviewed by: AprilR, courtesy of My Book Addiction and More