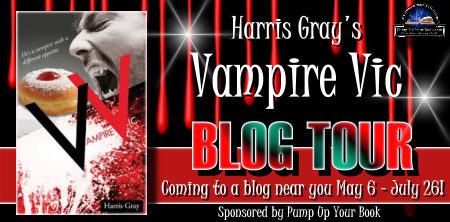 Join Harris Gray, authors of the horror book, Vampire Vic, as they tour the blogosphere May 6 – July 26, 2013!
——————————————————————–
ABOUT VAMPIRE VIC
Would you give up donuts…for blood?
Fat, balding accountant Victor Thetherson hoped becoming a vampire would turn his life around. But Victor can't stomach confrontation and gets queasy at the sight of blood. Instead he gets it from the blood bank, diluted in bloody Bloody Marys. The result: a vampire who doesn't bite, and a man who gets no respect.
Victor's slacking staff mockingly calls him Vampire Vic. Victor's boss amuses his wife by intimidating Victor on video. His ex makes him stay out late while she entertains boyfriends in the house she insists they continue to share. One night it finally boils over, and Victor bites someone. And then another…and very soon, he's no longer visiting the blood bank.
Muscle replaces fat, and his comb-forward widow's peak takes root. Victor basks in newfound attention and respect, at the office and at home. But real vampires get hunted, and as the transformation reaches the tipping point, Victor must decide how much he's willing to sacrifice for the power of the vampire.
Purchase at:
Add on:
—————————————————————-
ABOUT HARRIS GRAY
Harris Gray finish their third pint and mull over their next writing project, simultaneously deciding on a vampire book. Because the women in their lives eat up every vampire story on the shelves. And for the gratuitous T&A. But hunky, smoldering vampires are beyond their grasp; and dammit, T&A should mean something. Deciding to write what they know, Harris Gray return to their wheelhouse: An aging, uncomfortable man, not so happy with his lot in life. A man bitten by a vampire, unsure what to do with his new…skillset. Vampire Vic – VV – is born. Perfect.
The latest book is Vampire Vic.
WATCH THE TRAILER!
Pump Up Your Book and Harris Gray are teaming up to give you a chance to win a new Kindle Fire HD!
Here's how it works:
Each person will enter this giveaway by liking, following, subscribing and tweeting about this giveaway through the Rafflecopter form placed on blogs throughout the tour.
This promotion will run from May 6 – July 26. The winner will be chosen randomly by Rafflecopter, contacted by email and announced on July 27, 2013.
ENTER TO WIN!
————————————————————
Vampire Vic Virtual Book Publicity Tour Schedule
————————————————————
Monday, May 6 – Book featured at Margay Leah Justice
Thursday, May 9 – Book featured at Review From Here
Monday, May 13 – Interviewed at Digital Journal
Wednesday, May 15 – Interviewed at Pump Up Your Book
Friday, May 17 – 1st Chapter Reveal at Book Him Danno
Tuesday, May 21 – 1st Chapter Reveal at As the Pages Turn
Thursday, May 23 – Guest blogging at Literarily Speaking
Monday, May 27 – Up Close and Personal at Between the Covers
Tuesday, May 28 – Book featured at Jody's Book Reviews
Wednesday, May 29 – Interviewed at Literal Exposure
Friday, May 31 – Book featured at Plug Your Book
Monday, June 3 – Book featured at Parenting 2.0
Tuesday, June 4 – Book featured at Book Reviews by Dee
Wednesday, June 5 – First Chapter reveal at Sapphyria's Book Reviews
Friday, June 7 – Book Featured at Mary's Cup of Tea
Monday, June 10 – 1st Chapter Reveal at Literary Winner
Tuesday, June 11 – Character Interview at Laurie's Thoughts and Reviews
Wednesday, June 12 – Guest blogging at The Paperback Pursuer
Friday, June 14 – Interviewed at Review From Here
Tuesday, June 18 – Book featured at Naturally Kim B
Wednesday, June 19 – Book Featured at Miki's Hope
Friday, June 21 – Guest blogging at My Book Addiction and More
Tuesday, June 25 – Book Featured at Moonlight, Lace, and Mayhem
Thursday, June 27 – Guest blogging at You Gotta Read
Monday, July 1 – Book Featured at Authors and Readers Book Corner
Tuesday, July 2 – Interviewed at The Writer's Life
Wednesday, July 3 – Interviewed at Broowaha
Thursday, July 4 – Guest blogging at A Little Bit of R & R
Friday, July 5 – Interviewed at The Top Shelf
Monday, July 8 – Interviewed at Janna Shay
Tuesday, July 9 – Guest blogging at Review From Here
Wednesday, July 10 – Interviewed at Book Marketing Buzz
Friday, July 12 -Interviewed at Examiner
Monday, July 15 – 1st Chapter Reveal at CelticLady's Reviews
Monday, July 15 – Book reviewed at The Top Shelf
Tuesday, July 16 – Book reviewed at My Cozie Corner
Wednesday, July 17 – Book reviewed at Inside BJ's Head
Thursday, July 18 – Book featured at Beyond the Books
Friday, July 19 – Book featured at Cheryl's Book Nook
Monday, July 22 – Book reviewed at I'm Shelf-ish
Monday, July 22 – Book reviewed at Steph the Bookworm
Tuesday, July 23 – Book reviewed at Gina's Library
Tuesday, July 23 – Book reviewed at Naturally Kim B
Wednesday, July 24 – Book reviewed at Mary's Cup of Tea
Thursday, July 25 – Guest blogging at Darlene's Book Nook
Friday, July 26 – Interviewed at From the TBR Pile
————————————————————–