TODAY'S GUEST IS….
DARIN GIBBY
[ Mystery]
~THE VINTAGE CLUB~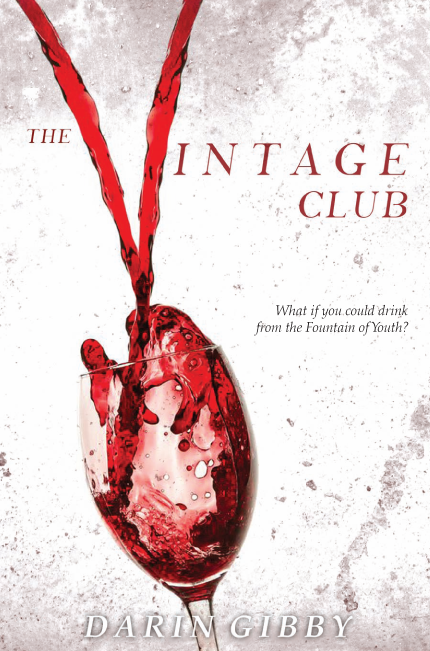 MBA&M: Darin, please tell our readers a few tidbits about yourself?
DARIN: I am a practicing patent attorney, helping to protect products from well-known companies like Western Union, Trek, and Boppy, in addition to start-up companies with innovating technologies ranging from heart pumps to smart phones.
I've been married for twenty years to my wife, Robin, and we have four children ranging in age from 12 to 21. We currently live in the Denver area.
I love anything outdoors. I participate in triathlons, ski (water and snow), fly fish, and play tennis and golf.  I love the Rocky Mountains and spend a few weeks each summer backpacking in where few people ever visit.  If I can get away with it, I'll download an audiobook on my iPod and listen to a good book while I'm at it.
MBA&M: What was the challenges in writing "The Vintage Club"?
DARIN: One of the challenges was how to create a story where I integrated a legend about a wine that can make you live forever with modern technology that could be used to scientifically verify whether this is possible.
In a similar vein, I wanted to tell a story about how the wine symbolizes what it takes to live an eternal life.
On top of all this, I needed a character who struggles with his human frailties so that he could in a personal way learn what the legend of the wine really represents.
MBA&M: What made you decide to write a story about some the world's wealthiest men, wine elixir, eternal life, and murder?
DARIN: Ever since I was introduced to Joseph Campbell and his lectures on mythology, I have been fascinated with stories of elixirs and eternal life. He mentioned that his favorite place in the word was a cathedral in Chartres, France because of all the stained glass windows depicting these ancient legends. 
So, several years ago when I was in Paris, I took the train to this small town and spent the afternoon staring up at these beautiful scenes. It was there I hatched the idea of a modern holy grail story. I chose a group of wealthy men to portray individuals who were looking for a literal elixir, hoping to find a way to increase their longevity, even if it meant murder. This was the perfect set up to contrast with the real meaning of the wine symbol which is that eternal life is not measured in terms of a length of time, but in terms of how you live. In other words, the kind of life you currently live can be eternal if you learn what creates that type of life. While the members of the Vintage Club are searching for a wine that can make you live longer, the real message is that what the wine represents can make you live eternally—right now.
MBA&M: What is next for you as a writer?
DARIN: In the immediate future, I'm going to be giving lectures and writing about the concepts found in The Vintage Club. However, more books will be coming.
And, I do plan to enjoy the moment. After spending years getting a book ready for publication, it's nice to sit back a have a few months off.
MBA&M: Will "The Vintage Club" be a series, if so how many books and what's next?
DARIN: It won't be a series, but I'm hoping it will be part of a sort of trilogy. My next book will be about transcendence, and after that there will be a book about endless energy.  Both will be set up as thrillers.
MBA&M: Who do you feel was the greatest influence in your writing career?
DARIN: I'd say John Grisham. I was a first year law student when The Firm was released, and a group of my friends read it the first week instead of reading court decisions. I've read every one of his books since then.
MBA&M: Inquiring minds want to know, with the Christmas holidays fast approaching…what is one of your favorite memories? How do you and your family celebrate the holiday?
DARIN: Our family loves traditions, so every year we follow the same routine. We have a nice dinner with clam chowder on Christmas Eve, then read Christmas stories together by the fireplace. Before going to bed, everyone gets to open one gift. I'd love to say that we sleep in, but someone always seems to get up early and insist we rush in and open our presents. The rest of the day is usually spent figuring out how to put in batteries or assemble some contraption.
MBA&M: Please tell our readers where they may connect with you and where they may purchase your title?
DARIN: Information about The Vintage Club and my background can be found on my web site at ww.daringibby.com. My email is dg@daringibby.com.  The book may be purchased on line at most major bookstores. 
Links to these sites are found at http://www.daringibby.com/books/the-vintage-club/
Thanks, Darin, for spending time with us and our readers today! What a fascinating tale, wine, murder and mystery!
—————–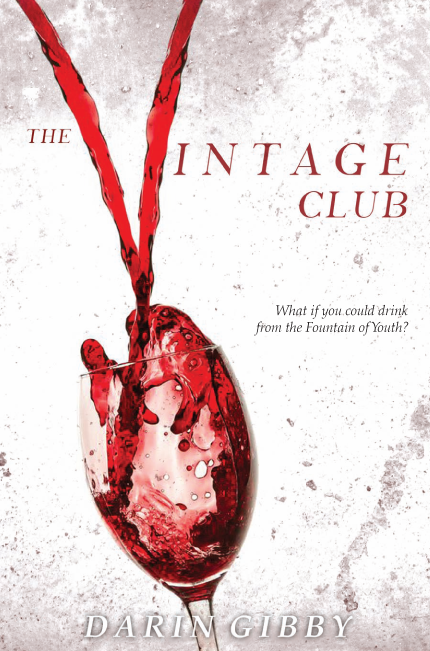 THE VINTAGE CLUB
DARIN GIBBY
*Author's website*
Can wine really make you live forever? Yes, if the grapes are an ancient varietal—or so the members of the Vintage Club believe. Made up of some of the world's wealthiest industrial magnates, the club conducts secret scientific research to discover what has eluded humans throughout history: the elixir of life.
Their quest hits a snag when scientist Walter Trudell is murdered. The prime murder suspect is his godson Reggie Alexander, a patent attorney whom Trudell once saved from a life of poverty in northeast Washington, D.C. As soon as news of the murder spreads, Reggie goes into hiding—soon after his wife and son disappear.
After being chased by mysterious assailants, beaten unconscious, and planted with a bug, Reggie must come to grips with his own private demons while figuring out how to save his family. The Vintage Club is a thriller that both explores the ancient Christian symbolism of wine and imagines ways that modern nanotechnology could be used to discover the fountain of youth.
Paperback: 326 pages
Publisher: Koehler Books (December 1, 2013)
Language: English
ISBN-10: 1938467655
ISBN-13: 978-1938467653
————-
A bit about the author….
Darin Gibby is the author of Why Has America Stopped Inventing? He is also an internationally renowned patent attorney and has been featured in a wide variety of publications as well as TV and radio shows, including The Washington Post, The Wall Street Journal, the Leonard Lopate show, Yahoo! Finance and To The Best of Our Knowledge.
Website: ww.daringibby.com
———–
Please help us spread the word on "The Vintage Club"!
———–
COMING SOON!!
For "My Thoughts" please visit our sister site, MyBookAddictionReviews
————
Thanks everyone for stopping by and supporting our guest, Darin Gibby!
HAPPY HOLIDAYS!